Your Reviews About the World
MyWorldReviews.com
Let the world know what you think
Chipotle
New York, New York, United States
864 Broadway
New York, New York, United States
10003
212-253-7860
www.chipotle.com
View Map
Overall Experience:
5 / 10
Date Visited:
Thursday, January 15, 2009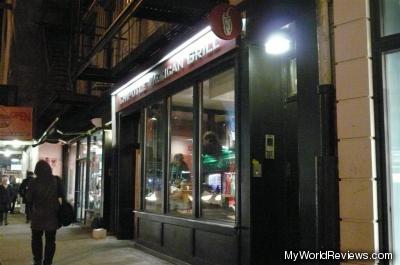 Chipotle - Union Square
Seating:
Indoor Cafe Tables
Chipotle is a Mexican-style chain restaurant in the US. This restaurant is located at the north end of Union Square. They have very limited seating. In addition to the few tables, there is also a bar where people usually end up standing and eating. The food is decent quality Mexican-style fast food, and reasonably priced.
Dress
Casual
Cost
Around $7-$8 for a meal
Service
You place your order at the counter, pick your toppings, then pay.
Items Ordered
Veggie Soft Tacos and Barbacoa Burrito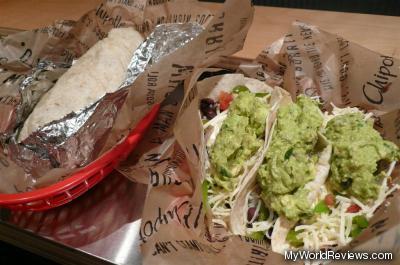 Tacos and Burrito
Veggie Soft Tacos: Soft flour tortillas filled with black beans, guacamole, salsa, cheese, sour cream, green peppers, onions, and lettuce. Barbacoa Burrito: Flour tortilla, cilantro-lime rice, pinto beans, barbacoa beef, salsa, and cheese.
Cost:
Tacos: $7.38 Burrito $7.84
Both these dishes are about equally large. They were both stuffed full of toppings. We were able to choose what we wanted inside. I preferred the pinto beans to the black beans. The barbacoa beef was very flavorful and had a nice spice to it without being spicy. The guacamole is included in the price of a vegetarian dish, but costs extra in a meat dish.
review contents
Dress
Cost
Service
Items Ordered
Veggie Soft Tacos and Barbacoa Burrito
related reviews
More reviews in New York, NY
Been here? Want to write your own review of this restaurant?