Your Reviews About the World
MyWorldReviews.com
Let the world know what you think
Chanpen
New York, New York, United States
761 9th Ave
New York, New York, United States
212 - 586 - 6808
www.chanpenthai.com
View Map
Overall Experience:
7 / 10
Date Visited:
Saturday, September 13, 2008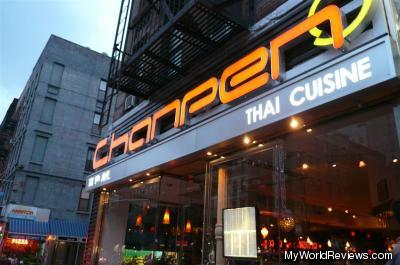 Chanpen is a Thai Restaurant in Hell's Kitchen in New York City. There are many restaurants in this area on 9th ave. We randomly picked this one and were quite pleased with the results. The food here was equally good to any other Thai restaurant I've been to.
Dress
Casual - shorts and t-shirt are fine.
Cost
The prices are quite reasonable. Most entrees were between $10-$15.
Service
The restaurant wasn't very busy when we visited on a Saturday night. We were seated at a table right away.
Items Ordered
Pan Fried Chicken Dumplings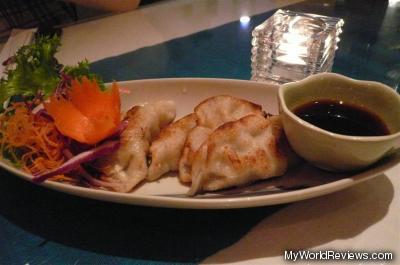 Pan Fried Chicken Dumplings
With vegetable and chicken filling.
We were served four dumplings with some sauce. I think it may have been some kind of soy sauce. The dumplings were not bad, but nothing special.
Kang Ka Ree Chanpen Curry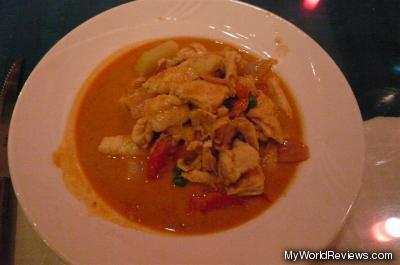 Kang Ka Ree Curry
Thai yellow curry and coconut milk with potato and onion.
Cost:
$10.95 with Beef, Chicken or Pork
The curry dish was ordered with chicken, and with a bit of extra spice. It was quite good - exactly what I wanted in a curry. It had a nice flavor of curry and coconut milk, with a fair bit of chicken. I wished there was a bit more veggie and potato, but overall I was very pleased.
Pad Thai Chanpen Noodles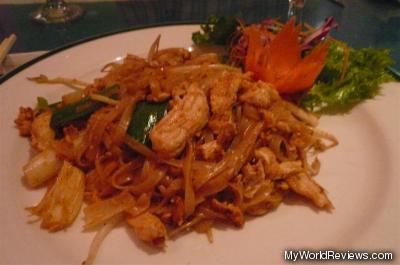 Pad Thai Noodles
You've tried the rest, now try the best. The most traditional noodle dish, sauteed with peanut, eggs, bean sprouts, and scallion.
Cost:
$9.50 with Beef, Chicken, Pork or Shrimp
The Pad Thai was very good. This is one of the best Pad Thai's I've had. It was nutty and very flavorful. My only disappointment was that it didn't have much vegetable, but I think that's usual for Pad Thai.
Dessert Deluxe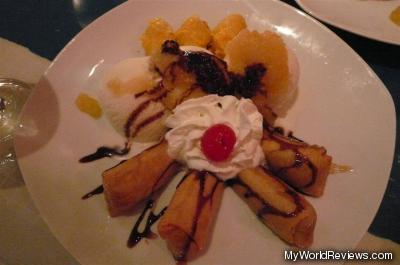 Dessert Deluxee
A combination of Thai Yellow Bean Cake, fried banana, and ice cream.
This was a very interesting dessert dish. I didn't think I'd like the bean cake, but it was actually pretty good, although a bit plain. It went well with the vanilla ice cream. The fried banana was tasty. The banana was wrapped in filo pastry and fried, making it very sweet.
I enjoyed these desserts for their novelty value - none of them were really great.
review contents
Dress
Cost
Service
Items Ordered
Pan Fried Chicken Dumplings
Kang Ka Ree Chanpen Curry
Pad Thai Chanpen Noodles
Dessert Deluxe
related reviews
More reviews in New York, NY
Been here? Want to write your own review of this restaurant?