Your Reviews About the World
MyWorldReviews.com
Let the world know what you think
Central Cafe and Restaurant
Istanbul, Istanbul, Turkey
Overall Experience:
7 / 10
Date Visited:
Wednesday, March 5, 2008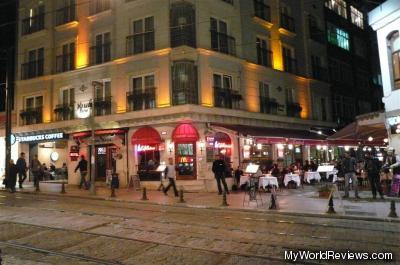 Central Cafe and Restaurant is a restaurant located in the old part of Istanbul, Turkey. They had someone standing outside recruiting people to eat at their restaurant, which is how we ended up there. The restaurant had a bit of an American feel to it - it didn't feel as foreign as some of the other places we've eaten at.
For payment, the restaurant printed a bill with prices in YTL, Euros, and dollars. They also take credit cards. I thought the variety of currencies they accepted was impressive!
The restaurant offered both indoor and outdoor seating. Since it was a cool night, the outdoor seating had overhead heaters that were being used.
Portions here were significantly larger than other Turkish restaurants we ate at.
Cost
The restaurant was very slightly upscale (compared to other local restaurants), so it's a bit more expensive than your average Turkish restaurant. Pastas cost around 13 YTL, pizzas around 15 YTL, and appetizers ranged from 5-15 YTL.
Dress
The restaurant was fairly casual; jeans were acceptable.
Service
The service was pretty good. The person who took our order spoke English fairly well. The menu was also printed in English (although I'm sure they also had a Turkish menu available).
Items Ordered
Pita Bread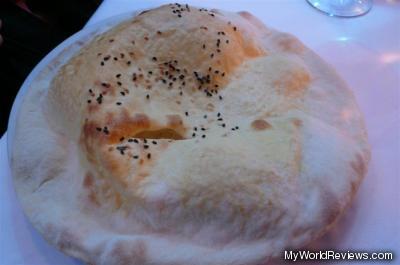 Large pita bread
We received two free types of bread during our meal - this one was a pita bread. It had some spice on top, but we couldn't figure out what it was.
More bread
More bread
These pieces of bread were much heavier than the pita bread. They were quite dry and heavy, although they look nice and moist in the attached picture.
Garlic Bread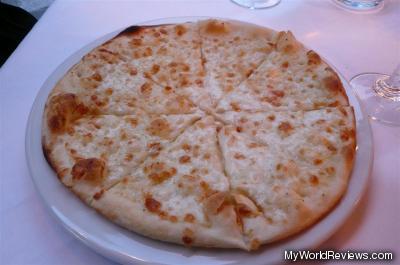 Garlic Bread
garlic sauce, pale - yellow sheep's chese...
The garlic bread actually looked like more of a pizza! The bread was thin, like a flat bread, and had cheese and garlic on it. The garlic was nice, but not overpowering.
Vegetarian Spaghetti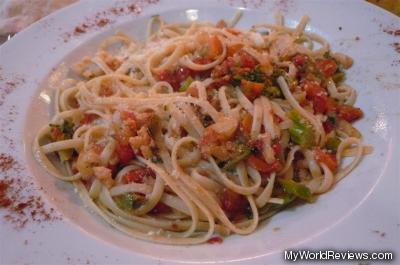 Vegetarian Spaghetti
daily vegetables, tomato sauce, parmesan cheese
This pasta wasn't really in a tomato sauce, although it did have chunks of tomato in it. We found the pasta a little bit too vinegary, although it was still pretty good. The included vegetables were broccoli, cauliflower, mushrooms, peppers, and carrots.
Chicken Shish Kebap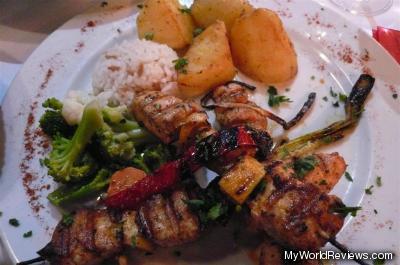 Chicken Shish Kebap
chicken meat, baked potato, fried seasonal vegetables and rice...
This was probably the most enjoyable meal I had while in Turkey. The chicken (and there was lots of it) had an incredible lemon flavor. The vegetables on the kebap were actual pieces of lemon. I had no idea this dish would be so heavily lemon flavored, but I liked it! The potatoes were also slightly lemon flavored, although they were pretty plain. The dish was also served with hot broccoli and cauliflower.
review contents
Cost
Dress
Service
Items Ordered
Pita Bread
More bread
Garlic Bread
Vegetarian Spaghetti
Chicken Shish Kebap
related reviews
More reviews in Istanbul, Istanbul
Been here? Want to write your own review of this restaurant?