Your Reviews About the World
MyWorldReviews.com
Let the world know what you think
Casa Enrique
Long Island City, New York, United States
5-48 49th Ave
Long Island City, New York, United States
11101
347-448-6040
View Map
Overall Experience:
7 / 10
Date Visited:
Monday, August 12, 2013
Casa Enrique in LIC
Casa Enrique is a restaurant in Long Island City somehow loosely related to Cafe Henri. They offer Mexican cuisine and an extensive Tequila menu. Everything we had was quite good, although their back patio was a bit dumpy - the concrete walls needed some work and the exposed air conditioners were noisy at times.
Items Ordered
Enchiladas De pollo con mole de piaxtla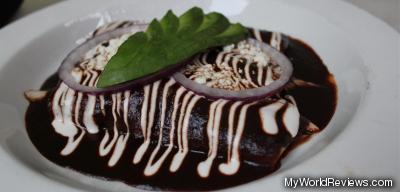 Enchiladas
Chicken breast, rolled in corn tortilla with Mole sauce, onion, black beans, crema fresca, queso fresco, and avocado
The chicken enchiladas had a really nice sauce. It was rich in flavor and had hints of chocolate. There were two fairly large enchiladas on the plate.
Carne Asada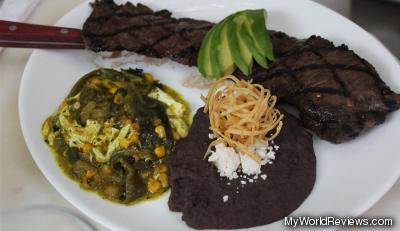 Carne Asada
Skirt steak marinated in tequila, roasted poblanos and beans
The carne asada was a big piece of meat. It was lightly seasoned, although the flavor could have been a bit better. It was served with some tortillas on the side. The beans were typical refried beans. The roasted poblanos were mixed with corn (and perhaps cheese?) and were also pretty good.
review contents
Items Ordered
Enchiladas De pollo con mole de piaxtla
Carne Asada
related reviews
More reviews in Long Island City, NY
Been here? Want to write your own review of this restaurant?
linked reviews