Your Reviews About the World
MyWorldReviews.com
Let the world know what you think
Carrabba's
New York, New York, United States
280 Marsh Ave.
New York, New York, United States
10314
718-477-9000
carrabbas.com
View Map
Overall Experience:
7 / 10
Date Visited:
Saturday, November 29, 2008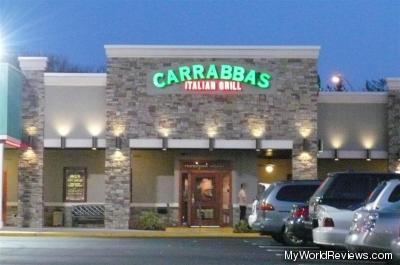 Carrabba's Italian Grill
Seating:
Indoor dining room
Carrabba's is a chain of family-friendly Italian-style restaurants. They typically offer above average Italian food for fairly reasonable prices. This restaurant is located near the Staten Island Mall.
Dress
Very casual - it's a family-friendly restaurant.
Cost
Average prices. It's not the cheapest Italian restaurant out there, but the food is definitely excellent value.
Items Ordered
Bread and herb dip with olive oil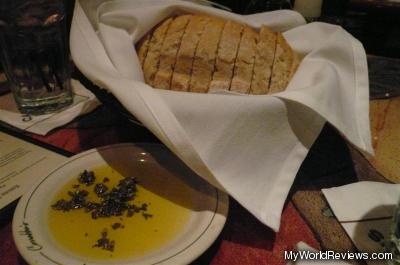 Bread and herb dip with olive oil
One thing I love about Carrabba's is their excellent bread and oil herb dip. The bread was served warm. It was a slightly dense white bread with a hard (but thin) crust. It was a delicious bread.
Our table had a bottle of olive oil on it, which was poured into the small dish containing a herb mix. The herb mix was a great combination of herbs, and it went very well with the olive oil and the bread. It was a bit on the salty side, but was otherwise very tasty.
Fire Roasted Tomato Basil Soup
Fire Roasted Tomato Basil Soup
A creamy tomato basil soup prepared with fire roasted tomatoes topped with a chiffonade of basil and served with delicious cheesy bread (230/460 calories for cup/bowl)
Cost:
$4 for a cup, or $6 for a bowl
We ordered the bowl of soup, and were shocked to see the size of it for only $6. It was huge! The picture doesn't do it justice. Fortunately, it was only partially filled up.
The soup was quite tasty. It was nice and hot, and perfect for a cold day. It had a pretty good tomato and basil flavor, although I didn't see any "cheese bread" like what was mentioned in the description.
Filet Fiorentina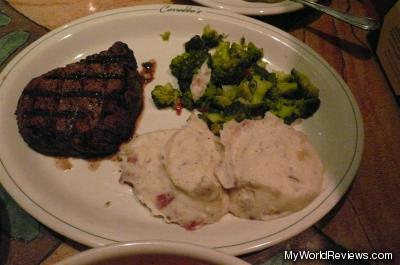 Filet Fiorentina
8 oz. center-cut tenderloin (500 calories). Served with two side dishes. Add a cup of soup or salad for $3.
I ordered the steak medium, but it could have used a bit more cooking time. Besides being a bit undercooked, it was very tasty and tender. It had a bit of a sauce that was just delicious.
The mashed potatoes were very creamy with a bit of garlic. They were as delicious as they should be, considering they had 530 calories (more than the steak!).
The restaurant had a couple different vegetables today, but I chose broccoli. It was prepared with a lot of garlic. It was very good, but had too much salt added to it.
House Salad with Pesto Vinaigrette Dressing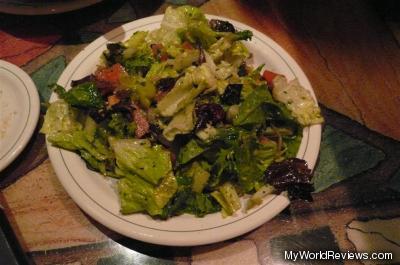 Salad added to Filet Fiorentina
We added this salad to the Filet Fiorentina dish for an additional $3. There were a number of different salad options, but the "pesto vinaigrette" sounded like the best. It was quite good. The salad had a great pesto smell, but only a mild pesto flavor. It's pretty much exactly what you would expect when you picture a "pesto vinaigrette". It was a vinaigrette dressing with the slight flavor of pesto. The salad was mostly lettuce with a bit of tomato and a few other small pieces of vegetables.
review contents
Dress
Cost
Items Ordered
Bread and herb dip with olive oil
Fire Roasted Tomato Basil Soup
Filet Fiorentina
House Salad with Pesto Vinaigrette Dressing
related reviews
More reviews in New York, NY
Been here? Want to write your own review of this restaurant?