Your Reviews About the World
MyWorldReviews.com
Let the world know what you think
California Pizza Kitchen
New York, New York, United States
440 Park Ave S
New York, New York, United States
10016
212-685-6700
www.cpk.com
View Map
Overall Experience:
6 / 10
Date Visited:
Saturday, February 6, 2010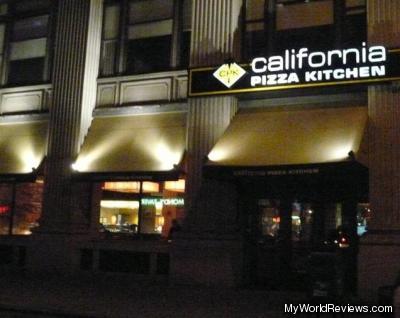 California Pizza Kitchen on Park Avenue
Seating:
Indoor Dining Room
California Pizza Kitchen is a Pizzeria chain across the United States. They offer casual family dining. Their menu consists mostly of pizza, and a few other common items. The pizza is pretty good, but doesn't offer much flexibility in size - all the pizzas are the same size.
Dress
Casual
Cost
Most of the pizzas are around $12
Items Ordered
Mediterranean Plate
Mediterranean Plate
Our original recipe of Tuscan white bean hummus, Feta cheese topped with extra virgin olive oil and a Greek salad with cucumbers, red onions, fresh Roma tomatoes and Greek olives in our homemade lemon-herb vinaigrette. Served with our traditional pizza-pita bread. (400 cal)
This appetizer was smaller than we expected. It was a bit small for sharing with 3 people. All the items were very good.
Carne Asada Pizza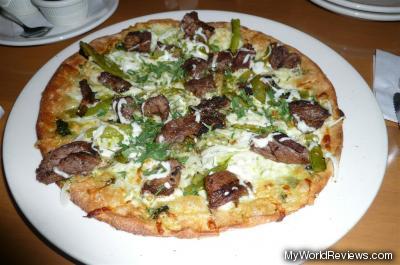 Carne Asada Pizza
Grilled steak, fire-roasted mild chilies, onions, cilantro pesto, Monterey Jack, and Mozzarella cheeses. Served with a side of tomatillo salsa and homemade roasted tomato salsa. (1320 cal)
I was a bit disappointed this pizza didn't have a tomato sauce, but it was still an ok change from the usual. It had a mildly spicy flavor. The steak was flavorful and tender.
Goat Cheese with Roasted Red Peppers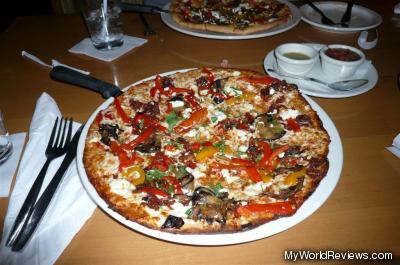 Goat Cheese with Roasted Red Peppers Pizza
Mild goat cheese with roasted red & yellow peppers, grilled Japanese eggplant, Mozzarella cheese, caramelized onions, Italian parsley and our tomato sauce. (1180 cal)
The roasted red pepper gave this pizza a bit of a sweet taste. There was a good amount of toppings. The goat cheese was soft and delicious.
review contents
Dress
Cost
Items Ordered
Mediterranean Plate
Carne Asada Pizza
Goat Cheese with Roasted Red Peppers
related reviews
More reviews in New York, NY
Been here? Want to write your own review of this restaurant?