Your Reviews About the World
MyWorldReviews.com
Let the world know what you think
Cafe Du Soleil
New York, New York, United States
2723 Broadway
New York, New York, United States
10025
212-316-5000
cafedusoleilnyc.com
View Map
Overall Experience:
7 / 10
Date Visited:
Saturday, March 7, 2009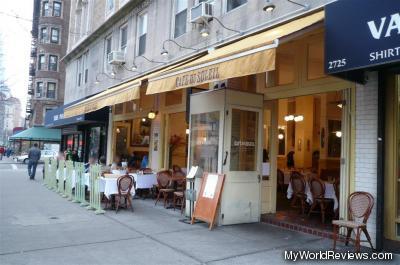 Cafe Du Soleil at Broadway and 104th St.
Cafe Du Soleil is a french restaurant located in Manhattan's Upper West Side. We visited for an afternoon cappuccino, and were also enticed by their appetizer menu.
Dress
The restaurant felt quite casual, with slightly upscale white table cloths on the tables. In the afternoon, everyone was very casual.
Cost
The afternoon menu had some appetizers, salads, and sandwiches - all were around $10.
Service
We went in and asked if we could take a table outside before sitting. Once we sat down someone came and took our order. Although the place had the feel of a European cafe with street-side tables, it was more like a restaurant.
Reservations
The place wasn't very busy in the middle of the afternoon on a Saturday, but it might be busier in the evenings. They do take reservations on their website.
Items Ordered
Cappuccino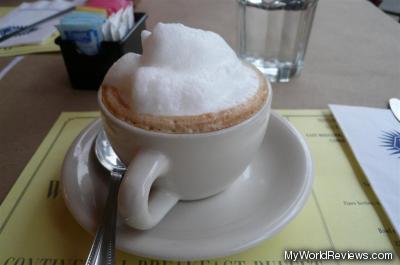 Cappuccino
The cappuccino was really nice. It wasn't bitter and had a nice thick foam on top.
Tomate Montrachet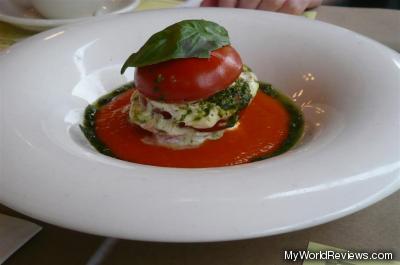 Tomate Montrachet
This appetizer consisted of one tomato cut into layers and stuffed with a soft goat cheese and pesto. The pesto was very good and flavorful and went really well with the tomato and the cheese. The cheese tasted fairly mild for a goat cheese. The sauce around it was also really good and great for dipping the bread in. (They brought some bread to our table along with our appetizer.)
review contents
Dress
Cost
Service
Reservations
Items Ordered
Cappuccino
Tomate Montrachet
related reviews
More reviews in New York, NY
Been here? Want to write your own review of this restaurant?