Your Reviews About the World
MyWorldReviews.com
Let the world know what you think
Cafe Dante
New York, New York, United States
79-81 Macdougal Street
New York, New York, United States
10012
1-866-681-0299
www.caffe-dante.com
View Map
Overall Experience:
5 / 10
Date Visited:
Sunday, January 18, 2009
Cafe Dante in Greenwich Village
Seating:
Indoor Cafe Tables
Cafe Dante is a cozy little cafe in Greenwich Village. They have a fair number of cafe tables and a relaxed atmosphere, making it a nice place to go and sit with a drink for a couple hours. They have a selection of desserts, pastries and cafe drinks available. They also have some interesting Gelato served in bowls made from fresh fruit.
Unfortunately, their chairs are fairly uncomfortable, so that may be a limiting factor in how much time you spend here.
Dress
Casual
Cost
I thought the cake piece we got was overpriced. It was a pretty small piece.
Service
The waiters gave us a menu and took our order. Then they pretty much left us alone for the rest of the evening until we called them over for the bill.
Reservations
I don't think they take reservations. When we arrived late in the evening on a weekend it was busy, but there were several tables open. Many of the other cafes in the neighborhood were full, and this was the first one we found with open tables.
Items Ordered
Tiramisu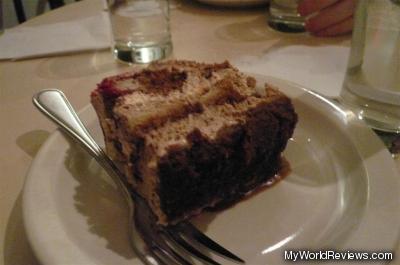 Tiramisu
This was a good Tiramisu cake. The piece was pretty small. It was the right size for one small person, and not really enough to share.
review contents
Dress
Cost
Service
Reservations
Items Ordered
Tiramisu
related reviews
More reviews in New York, NY
Been here? Want to write your own review of this restaurant?