Your Reviews About the World
MyWorldReviews.com
Let the world know what you think
Cafe Boulud
New York, New York, United States
20 East 76th St
New York, New York, United States
10021
212-772-2600
danielnyc.com/cafebouludny.html
View Map
Overall Experience:
7 / 10
Date Visited:
Saturday, February 2, 2013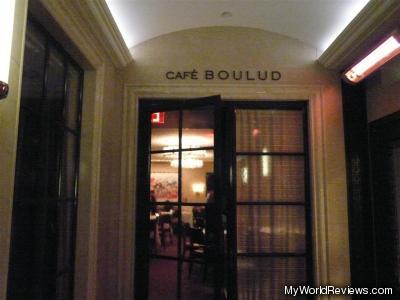 Cafe Boulud
Cafe Boulud is a Daniel Boulud restaurant. The restaurant received one Michelin Star. The food was excellent, but the service we experienced was subpar. In addition to a selection of freshly baked breads there was also an amuse bouche. The menu was divided into four categories of styles of food - giving a wide variety of delicious tasting options.
Dress
Smart casual - suits are not required, but many people were quite dressed up.
Cost
Entrees are around $40
Service
We experienced poor service for a fine dining restaurant. We waited quite a while before our water glasses were refilled. I asked my beef to be cooked medium-well - when it arrived it was cooked medium-rare. I waited, but nobody came to our table. When I finally sent it back to be re-heated, I had already eaten half of it, but it came back as just a plain steak without the pastry and mushrooms.
Reservations
Reservations are recommended
Items Ordered
Winter Squash Soup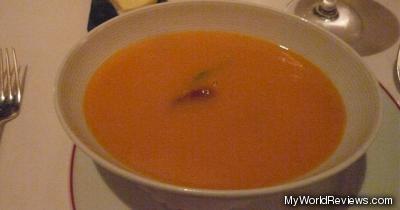 Winter Squash Soup
gorgonzola croquettes, spiced pecans
The soup was poured over top the spiced pecans and some herbs at the table. It was a delicious wintery soup.
Kale Salad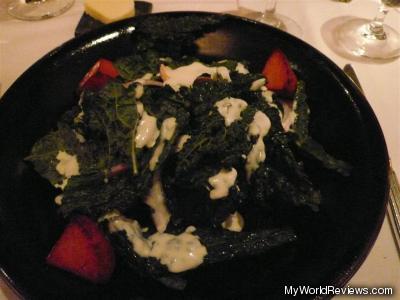 Kale Salad
roasted pumpkin, marcona almonds, buttermilk dressing
The salad was surprisingly delicious for kale. The sauce was a little bit sweet which went well with the roasted pumpkin.
Pan Seared Duck Breast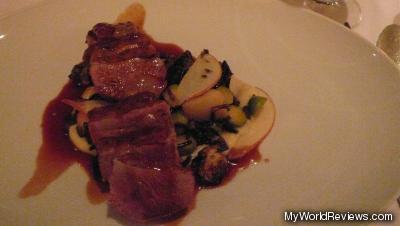 Pan Seared Duck Breast
minnesota wild rice, brussels sprouts, apple cider, sauce albufera
The sauce on the duck was very rich and flavorful. The meat itself was served medium-rare and was tender.
Beef Wellington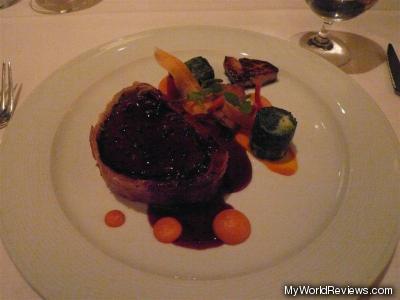 Beef Wellington
wild mushrooms, spinach subric carrot purée, sauce périgourdine
The Beef Wellington was amazing - in spite of it being served medium-rare when I ordered it medium-well. The meat was a high quality, tender piece of steak. The mushroom and pastry crust were excellent and very flavorful. The sauce was rich and sweet and made for a good combination with the mushrooms. The spinach subric was like a creamed spinach in cute little cylinders.
Mocha Mousse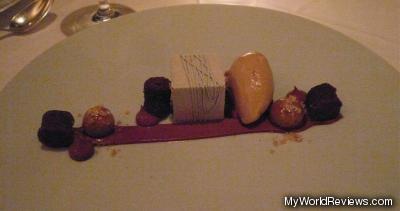 Mocha Mousse
pain de gênes, hazelnut salted caramel ice cream
The mocha mousse was as a delicious dessert as it was beautiful. There were a few different pieces of sweets - coffee and chocolate flavored.
review contents
Dress
Cost
Service
Reservations
Items Ordered
Winter Squash Soup
Kale Salad
Pan Seared Duck Breast
Beef Wellington
Mocha Mousse
related reviews
More reviews in New York, NY
Been here? Want to write your own review of this restaurant?