Your Reviews About the World
MyWorldReviews.com
Let the world know what you think
Cafe Bari
New York, New York, United States
529 Broadway
New York, New York, United States
10012
212-431-4350
cafebari.com
View Map
Overall Experience:
4 / 10
Date Visited:
Saturday, March 21, 2009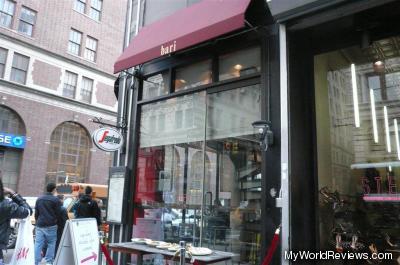 Cafe Bari
Seating:
Main floor dining room
Cafe Bari is a restaurant located at the corner of Spring & Broadway. Their claim to fame is that they place examples of their food on a table on the sidewalk (to try and attract visitors). After seeing those samples for awhile, we decided it was time to check them out. Overall, we were quite disappointed in our experience here. The food was overpriced, and of poor quality. There are many other options available that offer better value.
Dress
Fairly casual
Cost
The cheapest entree, eggs and a salad, is $14.95. Other entrees range from there to $23, with "upsell possibilities" (such as Chicken or cheese) for a few more dollars. A hamburger costs $18.25.
Service
There was nothing worth noting about the service.
Reservations
I don't know if they're accepted. We visited just after 6pm on a Saturday, and there was plenty of room available.
Items Ordered
Stuffed Eggplant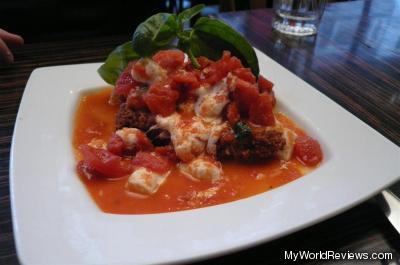 Stuffed Eggplant
With fresh tomatoes and home-made mozzarella cheese
The stuffed eggplant was probably the best item we received here. It consisted of a piece of eggplant that was breaded and fried, served with tomatoes and melted mozzarella cheese. It was quite good.
Steak sandwich or wrap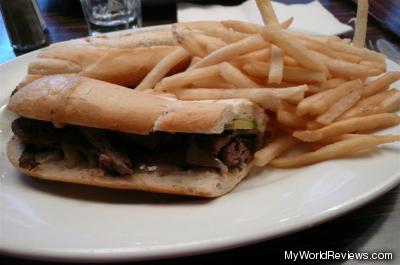 Steak sandwich or wrap
With chili mayonnaise, sauteed onions, avocado, & french fries
We asked for this sandwich with the chili mayonnaise on the side, but that didn't happen - we couldn't tell if the mayonnaise was on the sandwich, or if it was just omitted. The sandwich itself was quite plain. It consisted of pieces of beef with a few avocado slices and pieces of fried onion. The sandwich was ok, but it was definitely one of the more disappointing sandwiches I've had.
Linguini Nepolitana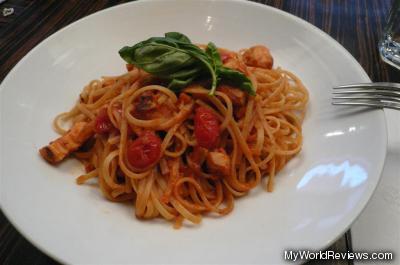 Linguini Nepolitana
With tomatoes, basil, & a touch of garlic
Cost:
$15.95, plus $4.50 for grilled chicken
The pasta was very plain. We ordered it with the grilled chicken for an additional $4.50, which was probably a good move - the pasta was tasteless otherwise. It was just linguini in a bowl with a couple of tomatoes. It was definitely a disappointing selection.
review contents
Dress
Cost
Service
Reservations
Items Ordered
Stuffed Eggplant
Steak sandwich or wrap
Linguini Nepolitana
related reviews
More reviews in New York, NY
Been here? Want to write your own review of this restaurant?