Your Reviews About the World
MyWorldReviews.com
Let the world know what you think
Buddha Bar
New York, New York, United States
25 Little West 12th St.
New York, New York, United States
10014
212-647-7314
buddhabarnyc.com
View Map
Overall Experience:
7 / 10
Date Visited:
Monday, October 13, 2008
Buddha Bar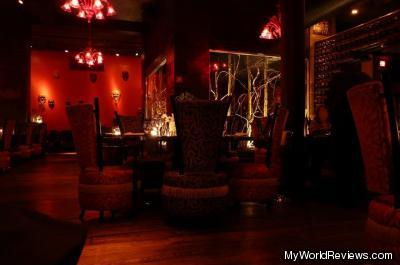 Inside Buddha Bar
Buddha Bar is a medium-upscale restaurant located in the meat packing area of New York City. As the name implies, they are likely also a bar (although we just visited for dinner).
The food here was pretty tasty, although it was also fairly expensive. Realistically, the food wasn't much better than many of the other (cheaper) Thai restaurants in the city, but the restaurant decor was quite nice. It was decorated in an upscale and modern way, with dim lighting, nice wall fixtures, and even what we think was a water installation under one of the seating areas that was slightly raised.
There was some upbeat lounge music playing. Unfortunately, the music was very, very loud. It made it difficult for us to converse. We asked them to turn it down, but our server said that they couldn't do that. Shortly after, he was trying to shout something to one of his colleagues, unsuccessfully. He then came by and said he'd try to get them to turn it down. The music did get turned down a bit, but it was still pretty loud (and difficult to carry on a conversation).
The restaurant is quite large, with lots of seating room.
Dress
Smart casual. There were some people here wearings suits, and other people wearing jeans and nice shirts.
Cost
On the expensive side - entrees averaged $30.
Service
Slightly higher than average. There was always somebody who ensured that our water glass was full.
Reservations
We visited around 7:30pm on a Monday, and were seated without a wait. The restaurant was fairly large, so there was still a fair bit of empty space.
Items Ordered
Salted Beans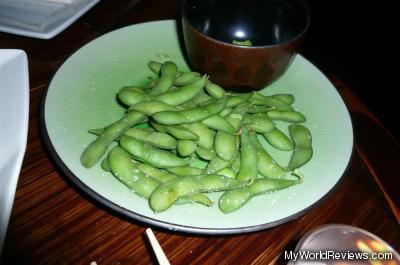 Salted beans
Our table was presented with a dish of salted beans after ordering, and an empty bowl to put the "shells" in. It was definitely an interesting alternative to bread. The beans were slightly cooked so they were soft and popped out of their shells easily. It was a fun and tasty snack to eat while waiting for our food.
Barbeque Duck Spring Rolls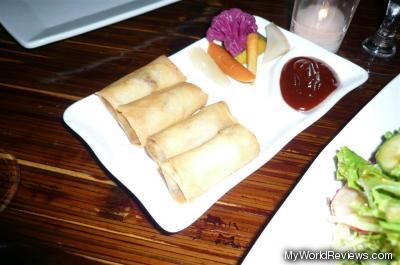 Barbeque Duck Spring Rolls
Sweet Spicy Chipotle Dip
These fried spring rolls were pretty typical spring rolls. It was difficult to detect the duck flavor in them. They were quite small, but tasty and fried. The dip really tasted like typical BBQ sauce. It wasn't very spicy.
Spring Greens Salad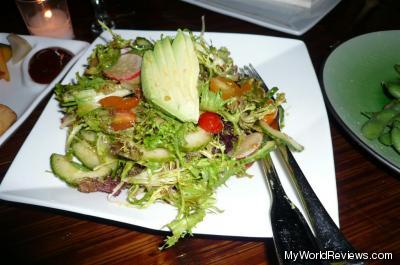 Spring Greens Salad
Orange Ginger Dressing
The salad was a pretty good lettuce salad. It was mostly lettuce with a sweet vinegar dressing. There were quite a few pieces of tomato and cucumber, and a few slices of avocado. Compared to other dishes, it was quite large for only $9.
Fire Curry Jumbo Shrimp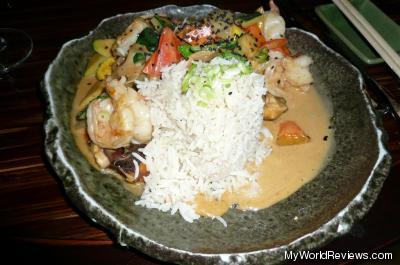 Fire Curry Jumbo Shrimp
Asian Vegetables / Lemongrass Rice
The fire curry jumbo shrimp dish was quite tasty. It had a bit of spice, but wasn't overly spicy. It was served with four or five shrimp (that were pretty large), and quite a few vegetables. The curry had a nice flavor of coconut milk.
Pan Roasted Chicken Breast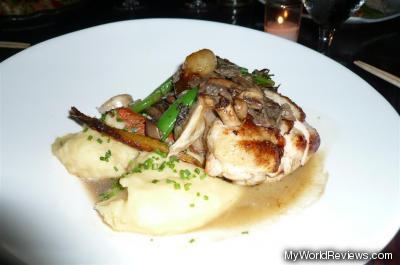 Pan Roasted Chicken Breast
Wild Mushrooms / Rainbow Carrots / Potato Puree
Although the chicken breast was moist, it also tasted pretty bland. Chicken is ordinarily a pretty tasteless meat, but it was unfortunate they didn't do anything to give it any flavor. The sauce it was served in mostly tasted like garlic. Dipping the chicken in the sauce helped a bit. There was quite a lot of chicken. The picture looks deceiving because the bowl is also very large, but I think there was half a chicken.
By contrast, the mushrooms were really good and full of flavor. So I ate them with the chicken. This whole dish had a lot of garlic in it. The potato puree and vegetables were all quite good - soft and creamy.
review contents
Dress
Cost
Service
Reservations
Items Ordered
Salted Beans
Barbeque Duck Spring Rolls
Spring Greens Salad
Fire Curry Jumbo Shrimp
Pan Roasted Chicken Breast
related reviews
More reviews in New York, NY
Been here? Want to write your own review of this restaurant?