Your Reviews About the World
MyWorldReviews.com
Let the world know what you think
Brooklyn Botanical Gardens
New York, New York, United States
1000 Washington Avenue
New York, New York, United States
11225
718-623-7200
www.bbg.org
View Map
Overall Experience:
7 / 10
Date Visited:
Saturday, April 3, 2010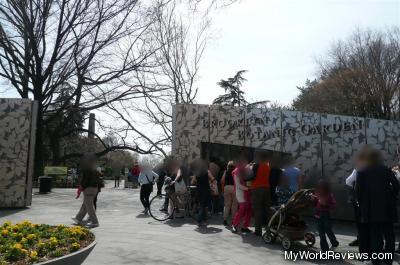 Brooklyn Botanical Gardens North Entrance
The Brooklyn Botanical Gardens are located in Prospect Park in Brooklyn. The gardens are fairly large and located in an urban part of Brooklyn. The gardens contain a variety of trees and flowers outdoors as well as a conservatory for more tropical plants.
We visited in early April when the cherry blossoms were beginning to bloom and the magnolia trees were at their peak. The cherry blossoms here were beautiful, especially in the Japanese garden. There were several weeping cherry trees which had long flowing branches of flowers reflecting in the pond.
Visiting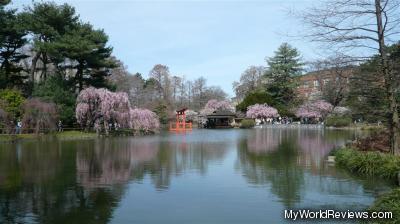 Japanese Hill and Pond Garden
You can get to the Brooklyn Botanical Gardens by taking the 4, 5, 2, 3, B, or Q subway lines. The entrance fee is $8 or $4 for students and seniors. Depending on the season you may want to spend more or less time. Approximately 2 hours should be enough to see everything. Leave extra time for getting into the park. On a busy weekend, there can be long lines to purchase entrance tickets. We waited in line for 45 minutes. There are several entrances to the park, so check if there is one with a shorter line before getting into a long line.
review contents
Visiting
related reviews
More reviews in New York, NY
Been here? Want to write your own review of this attraction?