Your Reviews About the World
MyWorldReviews.com
Let the world know what you think
Breadbox Cafe
Long Island City, New York, United States
47-11 11th St
Long Island City, New York, United States
11101
718-389-9700
www.breadboxcafelic.com
View Map
Overall Experience:
6 / 10
Date Visited:
Saturday, September 11, 2010
BreadBox Cafe
Breadbox Cafe is a small bakery and restaurant in Long Island City. They make fresh bagels daily and offer sandwiches, salads, and pastries on their menu. The restaurant is located in a quiet neighborhood in an old garage (next to a gas station - which is a bit weird). One wall is full of window garage doors that open to the outside on a nice day. They also have a small patio.
Dress
Casual
Cost
Most items are around $5 or less.
Items Ordered
Bagel with Cream Cheese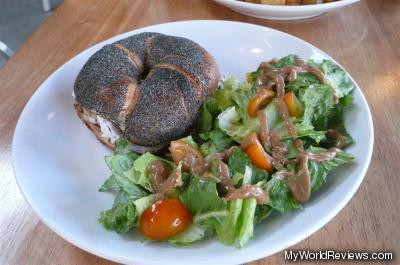 Bagel with Cream Cheese
The bagel tasted very fresh and was among the best bagels I've had in NYC. It was toasted and served with kalamata olive cream cheese, and a salad on the side. The salad was mostly lettuce with some fresh tomatoes and a bit of vinaigrette dressing.
Egg Sandwich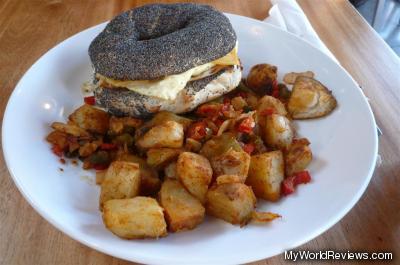 Egg Sandwich
The toasted bagel was served with egg and cheddar cheese, and roasted potatoes on the side. The roasted potatoes were dry, but the bagel was great.
review contents
Dress
Cost
Items Ordered
Bagel with Cream Cheese
Egg Sandwich
related reviews
More reviews in Long Island City, NY
Been here? Want to write your own review of this restaurant?