Your Reviews About the World
MyWorldReviews.com
Let the world know what you think
Bread Tribeca
New York, New York, United States
301 Church Street
New York, New York, United States
10013
212-334-0200
www.breadtribeca.com
View Map
Overall Experience:
7 / 10
Date Visited:
Wednesday, April 30, 2008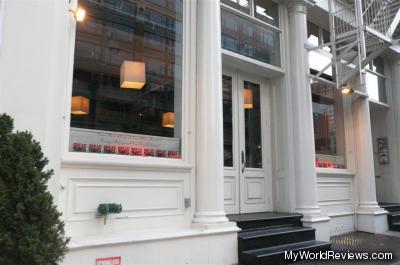 Bread Tribeca is a restaurant located at the north end of Tribeca (triangle below Canal) in Manhattan, New York. We stumbled upon this restaurant while walking by, and decided to try it out. From the outside it appeared to be a deli style restaurant with sandwiches (with a name like "Bread" and the word Panini on the window.)
It turned out to be more of an Italian restaurant. The interior was an interesting combination of classy restaurant and cafe/deli. The tables were decorated with flowers and candles, but the restaurant had an open kitchen and warehouse style ceiling. The chairs and booths were actually not as comfortable as they looked.
Cost
This restaurant seemed a little over priced. The quality of the food was good, but they didn't have a fine-dining atmosphere. Entrees were between $17 - $30.
Items Ordered
Bread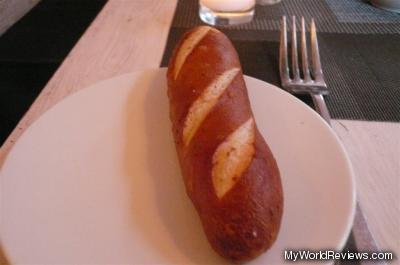 Bread
After we made our order, a server brought a basket of bread with three types of bread options. We were asked which one we would like. Pictured here is the pretzel bread. It tasted just like a giant pretzel but in stick form. There was also a small platter of plain olive oil brought out for the bread.
Ricotta & Spinach Ravioli
Ravioli
With nut-brown butter, sage, toasted almonds and Amaretti
The ravioli was absolutely delicious! It had a very nutty flavor, probably from the nut-brown butter which was really good. It tasted a little bit sweet and buttery like chestnuts. The dish was fairly small, although I found it quite filling. My only complaint is that it felt like it had been drenched in a little too much oil. It was very greasy and heavy to eat.
Dress
Casual dress seemed to be appropriate, although a slightly stylish casual would probably be the best way to describe it.
Parking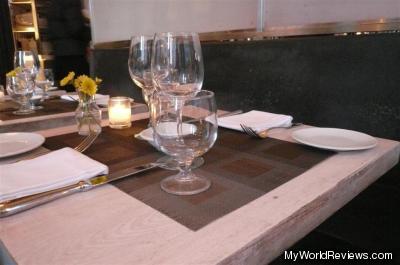 Interior Decor
There was no specific parking for this restaurant. The area didn't seem to be too busy, so it might be possible to find some street parking. The restaurant is also located very close to a few different subway stops, so that may be a more convenient way to get there.
review contents
Cost
Items Ordered
Bread
Ricotta & Spinach Ravioli
Dress
Parking
related reviews
More reviews in New York, NY
Been here? Want to write your own review of this restaurant?