Your Reviews About the World
MyWorldReviews.com
Let the world know what you think
Bravo Pizza
New York, New York, United States
146 5th Ave
New York, New York, United States
10011
(212) 523-0300
www.bravopizzany.com
View Map
Overall Experience:
5 / 10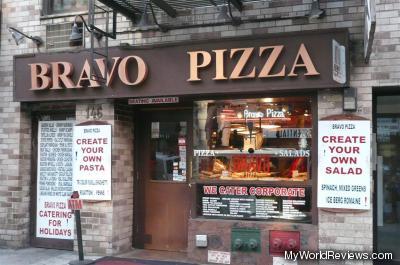 Seating:
Tables and chairs
Bravo Pizza is a pizzeria chain in New York. This location is quite close to Union Square. They offer a large selection of pizza slices as well as some salads and pastas. The place is setup with a pizza counter where you get your slice, then walk over to a cash counter where you pay. There are several tables and chairs available to sit and eat. There were no labels on the pizza slices, so we're not sure how much they cost, and we can only guess at the toppings.
Cost
We paid $10.15 after tax for two slices and a drink.
Dress
Casual.
Items Ordered
Two Slices and a Drink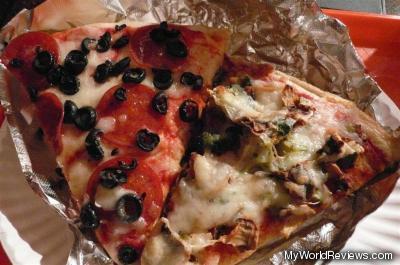 Two Pizza Slices
The pizza was of average quality. The slices were a regular size. The dough was quite thick, and pretty dry (but not in a good way - it was more of a "stale" dry than a crust that is "dry by design"). The slices had a pretty good amount of toppings on them.
review contents
Cost
Dress
Items Ordered
Two Slices and a Drink
related reviews
More reviews in New York, NY
Been here? Want to write your own review of this restaurant?