Your Reviews About the World
MyWorldReviews.com
Let the world know what you think
Brasserie Les Halles
New York, New York, United States
411 Park Avenue South
New York, New York, United States
10016
212-679-4111
leshalles.net
View Map
Overall Experience:
7 / 10
Date Visited:
Saturday, August 9, 2008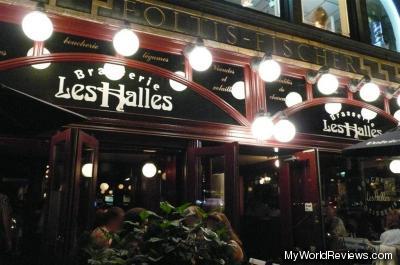 Les Halles
Seating:
"Indoor" Patio (open wall, covered ceiling)
Brasserie Les Halles is a French restaurant in New York City on Park Avenue between 28th and 29th streets. They're a slightly upscale restaurant with slightly above average food quality (and prices to match). We went around 7pm on a Saturday evening. The restaurant was busy, but we didn't need a reservation. Shortly after we arrived, the restaurant filled up, and a reservation would have been necessary.
Cost
Les Halles offers slightly above average food at slightly above average prices. For three people, we paid $150 (including beer, one appetizer and two desserts after taxes and tip)
Dress
The restaurant is fairly casual, although most people were wearing "smart casual" clothes (like everyone does in New York).
Service
One member of our group ordered "Crepes Suzette", which was prepared table side. Our server (who was the one doing the table side preparation) said it wasn't one of his favorite picks, and recommended three other options. We ordered it anyway, but he was right - it was definitely lacking something. It was fun to watch it being prepared.
Items Ordered
Bread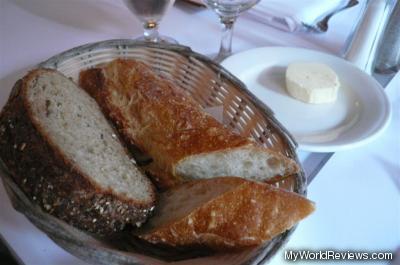 Bread
Our table was presented some bread and butter before ordering. The bread was nothing special, but we later ordered escargots, and the bread was excellent for dipping in the melted garlic butter.
Escargots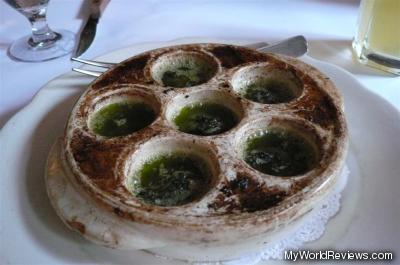 Escargots
Snails in garlic butter
The snails were just a vehicle for the garlic butter. They didn't have any taste of their own. The garlic butter was pretty good - it's hard to go wrong when the only ingredients are garlic and butter.
Saumon Bordelaise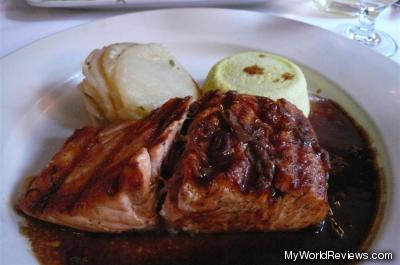 Saumon Bordelaise
Grilled salmon with leeks and fennel, red wine shallot sauce
We ordered the salmon well done, but it definitely could have been cooked longer. The inside of the salmon still had a fishy taste.
The red wine sauce that was served with the salmon was quite good. It had a strong, sweet flavor that tried to hide the fish taste.
The salmon also came with a small egg souffle, and some scalloped potatoes. The egg souffle wasn't very good, but I enjoyed the potatoes. They had a nice creamy flavor.
Filet de Boeuf, Bearnaise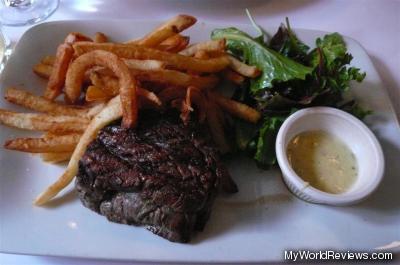 Filet de Boeuf, Bearnaise
Beef tenderloin, bearnaise prepared to order
The beef came with a small salad (which was quite bitter), and fries. The fries were excellent. They had just the right amount of crispyness and softness.
Like the salmon, the piece of beef was quite thick. It was undercooked, but was otherwise pretty good.
Tarte Tiede au Chocolat et Banane
Warm chocolate & banana tart, vanilla sauce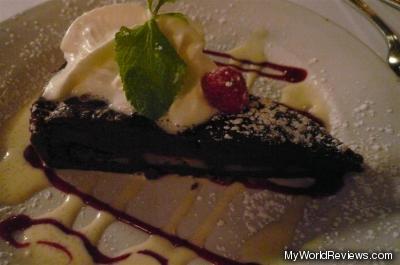 Tarte Tiede au Chocolat et Banane
The chocolate and banana tart was very good. The tart was a thick chocolate, almost like a thick fudge brownie. There was a layer of banana slices inside the tart, so you usually got a bit of banana in every bite.
The tart was served quite hot, and the whipped cream on top quickly melted.
The vanilla sauce was drizzled on the plate, but didn't impact the flavor of the chocolate tart.
review contents
Cost
Dress
Service
Items Ordered
Bread
Escargots
Saumon Bordelaise
Filet de Boeuf, Bearnaise
Tarte Tiede au Chocolat et Banane
related reviews
More reviews in New York, NY
Been here? Want to write your own review of this restaurant?