Your Reviews About the World
MyWorldReviews.com
Let the world know what you think
Boudin Bakery
San Francisco, California, United States
160 Jefferson Street
San Francisco, California, United States
94133
415-928-1849
boudinbakery.com
View Map
Overall Experience:
8 / 10
Date Visited:
Monday, January 7, 2013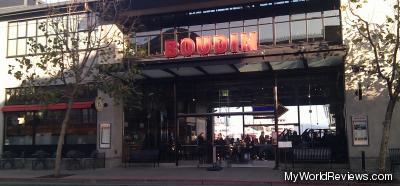 Boudin Bakery
Boudin Bakery is best known for its sourdough bread. There are a number of Boudin Bakery locations around San Francisco, with this location at Fisherman's Wharf is the biggest. It includes a store, a restaurant, and a museum tour where you can see how their bread is made. Their sourdough bread is some of the best I've had and has a unique sour flavor.
Dress
Very casual
Service
The downstairs cafe sells loaves of bread, sandwiches, soups, and breakfast items. You can order at the counter, and then sit at some of the seating out back or indoors. There is also a more substantial sit-down restaurant upstairs.
Items Ordered
Vegetable Scramble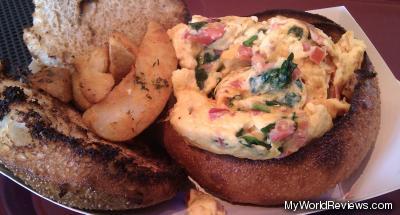 Vegetable Scramble
Spinach, cheddar cheese, tomatoes
The vegetable scramble consists of scrambled eggs mixed with some vegetables. It is served in a bread bowl with a few potato wedges. The potato wedges were nicely seasoned, and the egg was OK too. The best part was the bread bowl - sourdough bread from Boudin is just fantastic and one of my favorite things to have in San Francisco.
The scrambles at Boudin Bakery are quite large. They cut the top out of the bread bowl, and serve it as toast along with the bowl (which is also toasted). The meal is large enough that I only had a couple bites of the bowl (after eating the egg) before getting full.
review contents
Dress
Service
Items Ordered
Vegetable Scramble
related reviews
More reviews in San Francisco, CA
Been here? Want to write your own review of this restaurant?