Your Reviews About the World
MyWorldReviews.com
Let the world know what you think
Boqueria
New York, New York, United States
171 Spring St.
New York, New York, United States
10012
212-34-4255
boquerianyc.com
View Map
Overall Experience:
8 / 10
Date Visited:
Saturday, October 9, 2010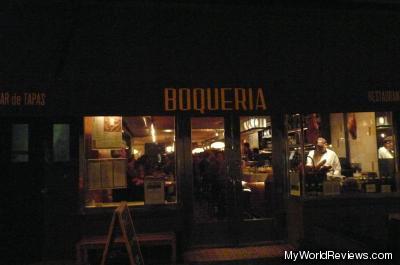 Boqueria
Boqueria is a great Spanish tapas restaurant with a couple of locations in NYC. They have a couple of really spectacular dishes (Patatas Bravas and Pintxos Morunos) that make this one of my favorite restaurants in NYC.
The food consists of many small dishes which all come out at somewhat random intervals.
Dress
Boqueria is a slightly upscale place, so "smart casual" clothes (nice jeans and a shirt) are appropriate.
Cost
Most tapas items range from $5 -> $15 each. Expect to order around 2 per person. It's not the cheapest restaurant around, but it's not bad for a nice soho experience either.
Service
Boqueria usually gets pretty rushed in the evening, but the wait staff deal with this well by being brisk and efficient.
Reservations
Reservations are recommended if you plan on arriving during peak times (6-8pm)
Items Ordered
Pimientos de Padrón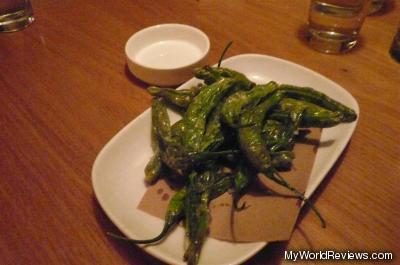 Pimientos de Padrón
Blistered Shishito peppers, coarse sea salt
When these came out, a couple people thought they were really spicy peppers while other members of our table thought they were sweet peppers. After a few more bites, we realized there were a mix of peppers in the dish and there was no way to tell what you were getting into before trying it. The peppers were fun to eat and made for some good conversation.
Patatas Bravas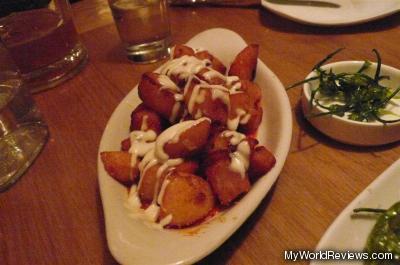 Patatas Bravas
Crispy potatoes, "salsa brava," roasted garlic all i oli
The Patatas Bravas at Boqueria are spectacular. I have started cooking my own patatas bravas at home now, inspired by Boqueria. They are a delicious potato coated in a slightly sweet and spicy red sauce with a little bit of a garlic white sauce on top. The combination is divine.
Cheese & Meats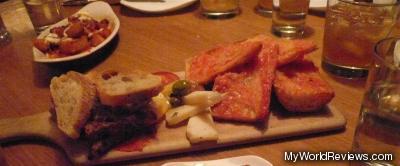 Cheese & Meats
Pan con Tomate ($5)
Grilled bread rubbed with tomato, garlic and olive oil
Aged Mahón ($5)
Tangy and intense, hard, slightly sharp, notes of citrus
Rosemary Manchego ($5)
Aged sheep's milk cheese in a rosemary rind
Chorizo Cantimpalo ($5)
Mildly spicy pork sausage cured in pimentón
It wouldn't be proper tapas without some cheeses and meats. We ordered a small selection this time, but I find most of the cheeses/meats taste the same anyway. There wasn't anything special about any of them.
Cojonudo & Pintxos Morunos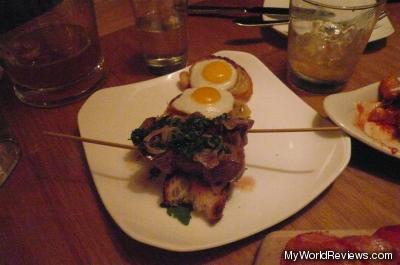 Cojonudo & Pintxos Morunos
Cojonudo ($6)
Fried quail eggs and chorizo on toast
Pintxos Morunos ($8)
Seared lamb marinated in lemon and cumin, salsa verde
These two items came out on the same plate. I quite enjoy the fried quail egg and chorizo - it's like a lightly spiced bacon & egg breakfast meal, but extra small. The lamb skewers are another one of the excellent dishes at Boqueria. They are always excellent - tender, juicy, and lightly spiced.
Gambas al Ajillo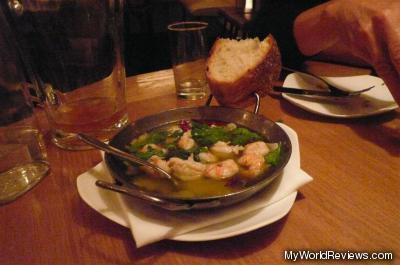 Gambas al Ajillo
Shrimp, garlic, and Guindilla pepper in olive oil
The shrimp at Boqueria are also quite good. They are floating in hot garlic oil, which is good for dipping bread into later.
Ensalada de Cana de Cabra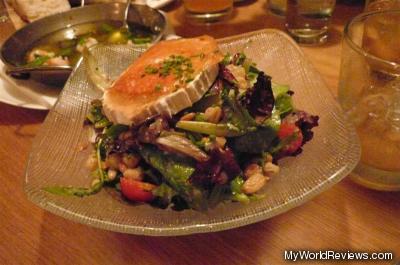 Ensalada de Cana de Cabra
Seared Spanish Goat Cheese, Mesclun Greens, Pine Nut Vinaigrette, Cherry Tomatoes, Bloomed Raisins
This salad was one of the daily special items. It was a big sweet salad with a sweet dressing.
Espárragos y Romesco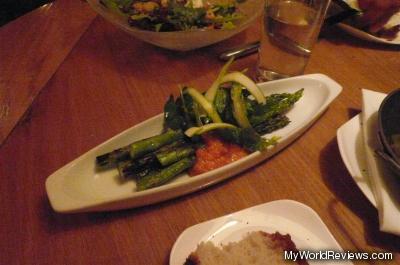 Espárragos y Romesco
Grilled green asparagus, almond romesco sauce
There isn't much to say about the asparagas - it was grilled and served hot with a sauce that went with it reasonably well.
Churros con Chocolate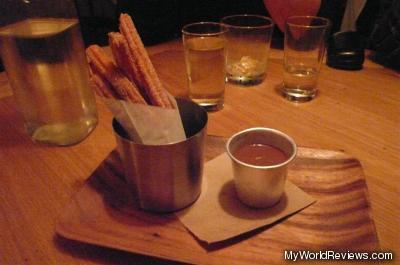 Churros con Chocolate
Traditional fried dough, thick hot chocolate
The dessert churros were mini churros and fun to dip in the hot chocolate sauce. Everybody was pretty full after our meal so this was a good small dessert that was easy to share amongst five people.
review contents
Dress
Cost
Service
Reservations
Items Ordered
Pimientos de Padrón
Patatas Bravas
Cheese & Meats
Cojonudo & Pintxos Morunos
Gambas al Ajillo
Ensalada de Cana de Cabra
Espárragos y Romesco
Churros con Chocolate
related reviews
More reviews in New York, NY
Been here? Want to write your own review of this restaurant?