Your Reviews About the World
MyWorldReviews.com
Let the world know what you think
Bonefish Grill
Sarasota, Florida, United States
3971 South Tamiami Trail
Sarasota, Florida, United States
34231
941-924-9090
www.bonefishgrill.com
View Map
Overall Experience:
7 / 10
Date Visited:
Thursday, February 12, 2009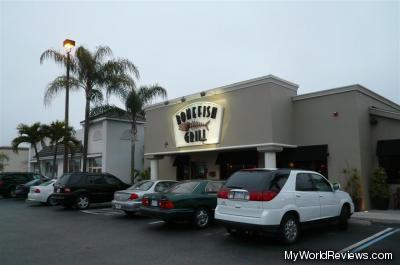 Bonefish Grill in Sarasota
Bonefish Grill is a chain of restaurants located around the US. The restaurant in Sarasota is nicely decorated and moderately upscale. It was very busy during the popular winter season. They specialize in fish and sea food, but also have other options, like Steak and Chicken. The food was all good, but quite salty.
Dress
Casual to smart casual - Sarasota is a beach town, so anything from shorts and a t-shirt to nice jeans and a nice shirt are fine.
Cost
This is one of the pricier restaurants in the area. Entrees were anywhere from $13-$20
Service
The service was adequate. Our water glasses were frequently refilled.
Reservations
The restaurant was very busy in the evening for dinner. They told us the wait was 35 minutes, but it was closer to an hour. They take call-ahead requests, which is similar to reservations.
Items Ordered
Bread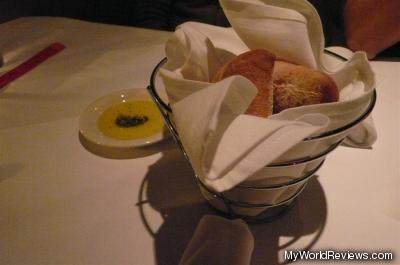 Bread basket
The bread basket and dipping oil arrived while we were waiting for our meal. The bread was hot and fresh and the dipping oil had some nice spices.
Bang Bang Shrimp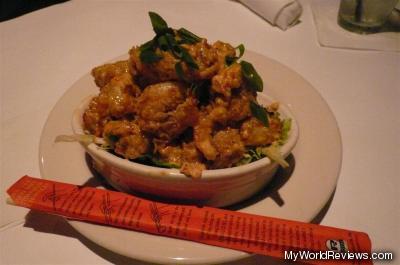 Bang Bang Shrimp
Tender, crispy shrimp tossed in a creamy, spicy sauce
The shrimp were spicy but delicious. They had a lightly fried crispy batter. There were quite a few shrimp in this appetizer. We had difficulty finishing it between 3 people.
Filet Mignon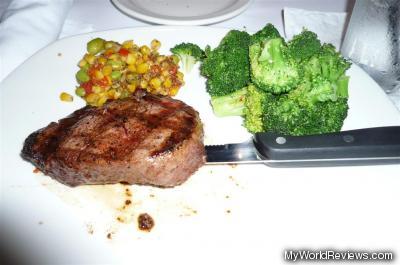 Filet Mignon
"center cut", seasoned & grilled served with fresh seasonal vegetable and your choice of one side
The steak was ordered medium with a side of broccoli. The steak was pretty good. It was very tender, and cooked properly. The fresh vegetables was an interesting vegetable mix of corn, beans, peppers, and some spices. The broccoli was steamed and mostly plain, except that it was salty.
Gulf Grouper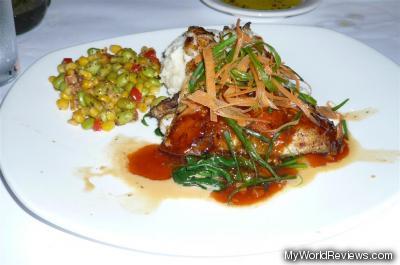 Gulf Grouper
Gulf Grouper served with your choice of signature sauce: Mango Salsa, Chimichurri, Pan Asian, Lemon Butter, and served with fresh seasonal vegetable and your choice of one side
The Gulf Grouper was ordered with the Pan Asian sauce and garlic whipped potatoes. The potatoes were pretty typical garlic potatoes. The fish was served with some carrot and green onion on top. The sauce was really nice and a bit sweet. The fish tasted very fresh and mild tasting. It didn't taste like fish at all, and went really well with the sauce.
Key Lime Pie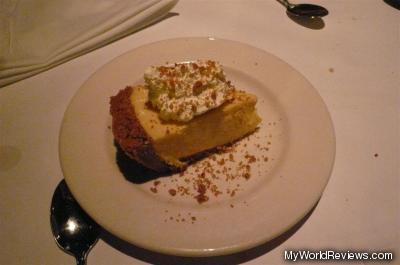 Key Lime Pie
The Key Lime Pie is a classic in Florida. This key lime pie was pretty good, but nothing special.
review contents
Dress
Cost
Service
Reservations
Items Ordered
Bread
Bang Bang Shrimp
Filet Mignon
Gulf Grouper
Key Lime Pie
related reviews
More reviews in Sarasota, FL
Been here? Want to write your own review of this restaurant?