Your Reviews About the World
MyWorldReviews.com
Let the world know what you think
Bombay Palace
New York, New York, United States
30 West 52nd Street
New York, New York, United States
10019
(212) 541-7777
www.bombaypalacenyc.com
View Map
Overall Experience:
7 / 10
Date Visited:
Saturday, February 4, 2012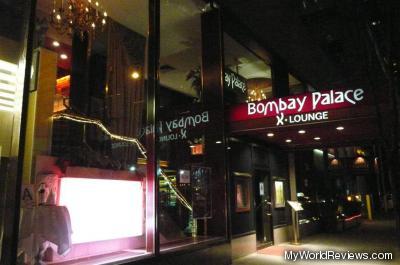 Bombay Palace
Bombay Palace is a typical Indian restaurant in Midtown Manhattan. It was a little bit fancier (our waiter scooped out our shared entrees onto our plates), but still fairly casual. The food we had here was very good and a little bit spicy. There was a party going on in their lounge upstairs that was a bit loud, but had good music.
Dress
Casual
Cost
Most entrees were between $15-$20
Reservations
The restaurant was mostly empty when we visited on a Saturday evening.
Items Ordered
Chilly Chicken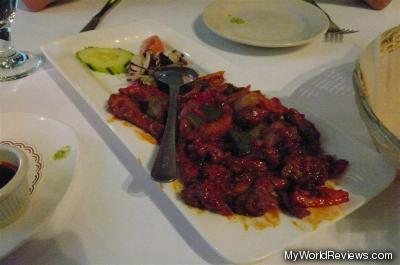 Chilly Chicken
Cubes of chicken pan sauteed with onions, bell peppers, tomatoes & green chillies
The chilly chicken was medium spicy. It had a nice flavor, but was not as strong as some other chillies I've had. The chicken was OK quality meat, but could have been better. There was something about this dish that made it taste more Chinese than Indian, even though it had Indian spices.
Aloo Gobi and Stuffed Baby Eggplant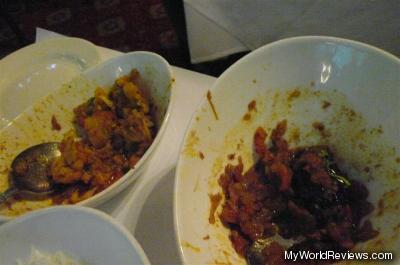 Aloo Gobi and Stuffed Baby Eggplant
Aloo Gobi - Mixtures of peas, potatoes, cauliflower garnished with cumin seeds
Stuffed Baby Eggplant - Baby eggplant stuffed with mild spices and herbs. A delicacy finished with thick tomato onion sauce
The aloo gobi was a little bit spicy. It had a nice creamy texture and a typical flavor. It was mostly cauliflower with a few potatoes.
The baby eggplant had a nice mix of spices to it. The eggplant was really soft and had a delicious taste from the spices.
Both these items in the picture are what remained of the dishes that we couldn't finish.
review contents
Dress
Cost
Reservations
Items Ordered
Chilly Chicken
Aloo Gobi and Stuffed Baby Eggplant
related reviews
More reviews in New York, NY
Been here? Want to write your own review of this restaurant?