Your Reviews About the World
MyWorldReviews.com
Let the world know what you think
Bocca di Bacco
New York, New York, United States
828 9th Ave # A
New York, New York, United States
10019
212-265-8828
boccadibacconyc.com‎
View Map
Overall Experience:
8 / 10
Date Visited:
Tuesday, October 30, 2012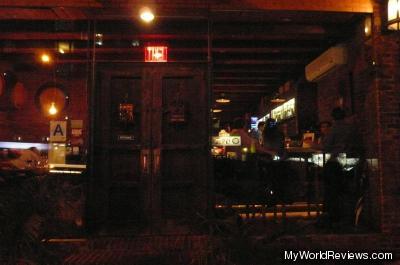 Bocca Di Bacco in Hell's Kitchen
Bocca di Bacco is an Italian restaurant with a couple of locations in New York City. We visited their location on 54th and 9th. It is a very homely restaurant with an exposed brick wall, romantic lighting, and wood-beam ceilings. Everything we had was quite flavorful without being unreasonably salty. This is one of the better Italian restaurants I've been to.
Dress
Smart casual
Cost
Pastas are around $20; most entrees range from $20-$25.
Items Ordered
Insalata Barbabietole Rosse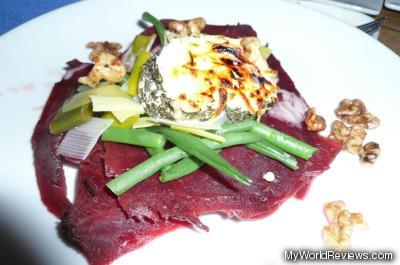 Insalata Barbabietole Rosse
Roasted red beets, string bean, herbed goat cheese, raspberry vinaigrette
The beet salad had a few slices of cooked beet, some boiled string beans, and a very hot and melty piece of goat cheese on top. There were also a couple pieces of walnuts. The warmed goat cheese was really good with a crispy crust, but the beets weren't cooked the best way; they were kind of bland and mushy.
Fettuccine Alla Bolognese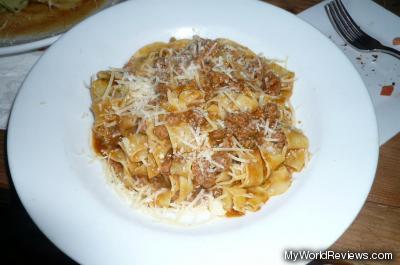 Fettuccine Alla Bolognese
Home-made pasta, traditional meat sauce
The fettuccine dish was made with wide noodles covered in a rich tomato sauce with large chunks of beef. The sauce was surprisingly flavorful. There was a rich tomato taste and the beef and sauce were both very nicely seasoned. Although this is often a very plain dish, the sauce here was flavorful enough that it was really enjoyable.
Tortelli Ricotta E Spinaci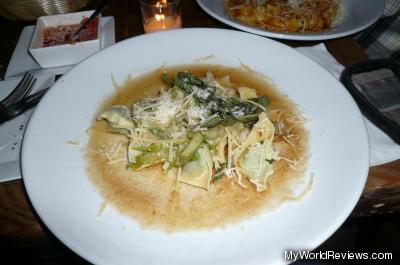 Tortelli Ricotta E Spinaci
Fresh ricotta and spinach stuffed tortelli, butter sage, green asparagus, parmesan
The Tortelli dish had a few little packets of ricotta and spinach, and it was topped with a butter sage sauce. The sauce and even the Tortelli themselves were just bursting with flavor without being salty. It's hard to believe how flavorful this dish was - it was just delicious. There weren't too many pieces of asparagus, but the few pieces there were acted as a nice addition to this dish.
review contents
Dress
Cost
Items Ordered
Insalata Barbabietole Rosse
Fettuccine Alla Bolognese
Tortelli Ricotta E Spinaci
related reviews
More reviews in New York, NY
Been here? Want to write your own review of this restaurant?