Your Reviews About the World
MyWorldReviews.com
Let the world know what you think
Blue Ribbon Brasserie
New York, New York, United States
97 Sullivan Street
New York, New York, United States
10012
212-274-0404
www.blueribbonrestaurants.com
View Map
Overall Experience:
6 / 10
Date Visited:
Saturday, September 19, 2009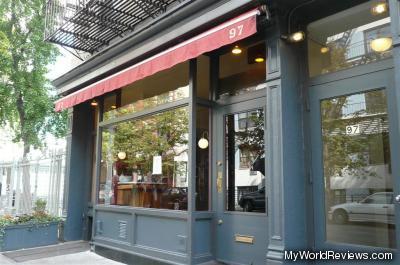 Blue Ribbon Brasserie in Manhattan
Blue Ribbon Brasserie is a French restaurant in SoHo. They are only open for dinner. They have a variety of sea food options as well as typical meat and vegetable dishes.
The restaurant is pretty small, and a bit noisy from the bar.
Dress
Fairly casual - jeans and a t-shirt are fine.
Cost
Most entrees were between $20-$30.
Service
The service was professional. They were also very accommodating when we had trouble with our cheese fondue.
Reservations
It can be difficult to get reservations. The restaurant was busy on a Saturday evening, but we only had to wait about 20-30 min for a table.
Items Ordered
Cheese Fondue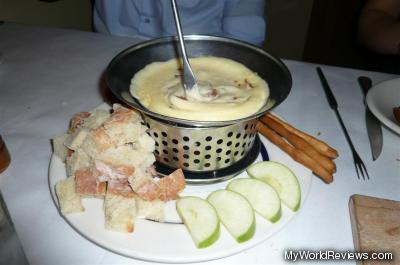 Cheese Fondue
The cheese fondue came with bread pieces, bread sticks, apple slices, and a potato skin filled with bacon pieces. The waiter recommended mixing the bacon pieces into the cheese. It added a nice smokey flavor to the cheese. The waiter also told us to stir the cheese often so that it doesn't harden. However, that didn't seem to help. About half-way through, the cheese became very thick and was no longer good for dipping in. When we asked the waiter if they could heat it up again, they took it away, and I think they brought us some new cheese. The cheese was really good and had a bit of a wine taste.
Salmon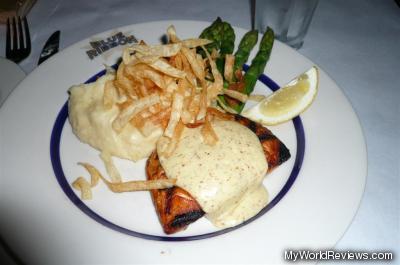 Salmon
Asparagus, crispy potato and mustard sauce
The salmon was really good, but I didn't like the mustard sauce at all. I'm not a fan of mustard, so that may have been the problem. The mashed potatoes were very creamy. The asparagus was pretty good, but nothing special. The crispy potatoes on top were like a very thin crispy french fry.
Roast Chicken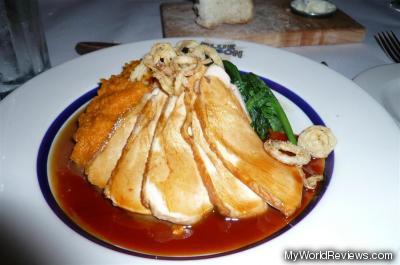 Roast Chicken
Sweet potato, spinach, sweet leeks
The roast chicken was very moist and had a delicious sauce on it. The sweet potatoes were really good with the sauce too, even the spinach was delicious. The sauce really made this dish, but I'm not sure what it was. The sweet leeks were kind of like little onion rings, covered in a light crispy dough.
review contents
Dress
Cost
Service
Reservations
Items Ordered
Cheese Fondue
Salmon
Roast Chicken
related reviews
More reviews in New York, NY
Been here? Want to write your own review of this restaurant?