Your Reviews About the World
MyWorldReviews.com
Let the world know what you think
Blue Hill
New York, New York, United States
75 Washington Place
New York, New York, United States
10011
212-539-1776
bluehillnyc.com/main.html
View Map
Overall Experience:
6 / 10
Date Visited:
Wednesday, October 1, 2008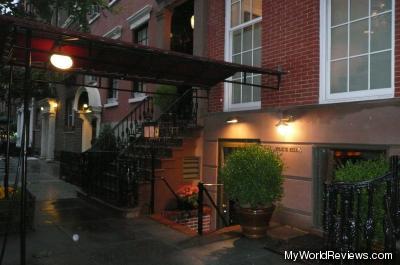 Blue Hill
Blue Hill is an American restaurant located just west of Washington Square Park. They present themselves as an upscale restaurant offering high quality food made with "farm fresh" ingredients. The restaurant received one Michelin star for this year, so we were looking forward to trying it.
Overall, we were disappointed. Everything was good, but the high expectations we had for Blue Hill were not met. Everything was pretty good, but only one dish made us say "Wow, this is really delicious". Everything else was mediocre to good. The average service and steep prices didn't help boost the restaurant's rating, either.
For our visit to Blue Hill, we were seated in the garden area - an enclosed room with some plants along the walls. I was pleased about this - the main dining room was quite noisy. The garden area only seated 18 people, and was much more pleasant. It was quite dark in the garden area, although the waitress provided some people with flashlights to help read the menu. There were lights attached to the wall, but they were kept very dim.
Dress
Business attire is appropriate. I did see one person wearing jeans and a t-shirt, but most people were wearing dress pants with a button shirt. A number of the men were also wearing suits with ties.
Cost
Most entrees are around $30. Desserts are around $12.
Service
We received adequate service; it was pretty average for a restaurant. Our waitress was nice, but wasn't overly friendly or polite. She knew the menu, but didn't go out of her way to share interesting details about our "farm fresh" food.
Reservations
Reservations are definitely recommended. Expect a three week wait. If you are feeling lucky, you can go to the restaurant and try to wait at the bar for a table to open up.
Items Ordered
Bread Sticks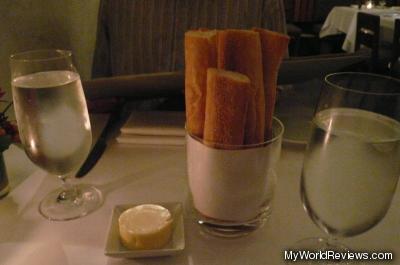 Bread Sticks
Our table was presented with a cup of bread sticks. They were interesting - it was like a very thin baguette, had been toasted and sliced into pieces. The bread tasted like a sourdough bread, served with a dish of butter.
Baby Carrots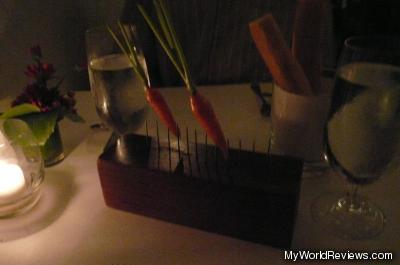 Baby Carrots
Each table received a different vegetable served on a block with small nails protruding from it. The nails serve to hold up the vegetables. We received carrots, but we saw another table receive cauliflower.
The baby carrots tasted like fresh carrots that had been soaked in balsamic vinegar. They were good, and you could tell they were real baby carrots, but they didn't taste very special.
This Morning's Farm Egg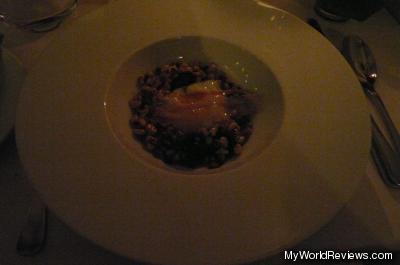 This Morning's Farm Egg
Corn, foraged mushrooms and house cured lardo
This appetizer was served in a very hot dish. I think the egg may have been cracked raw into a bed of hot corn, since it was very runny when it arrived.
I have heard that fresh eggs are simply delicious, but the most delicious part of this dish was the corn. We later discovered that the corn was a recurring theme throughout the meal - many of the dishes incorporated corn in some way. Fortunately, the corn was delicious. The egg tasted like an egg.
Sweet Corn Ravioli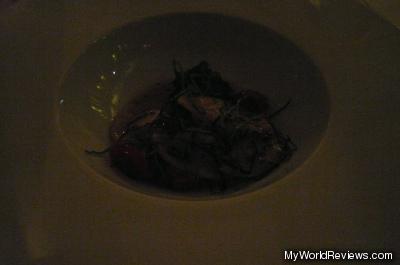 Sweet Corn Ravioli
Stone barns greens, basil and grape tomatoes
The sweet corn ravioli was the best dish we ordered at Blue Hill. This appetizer contained five ravioli, four grape tomatoes, and greens served in a sweet corn sauce. The ravioli had an unbelievable sweet corn flavor. They were delicious. Even the greens (which reminded me a bit of spinach) tasted really good in the sauce.
Stone Barns Berkshire Pork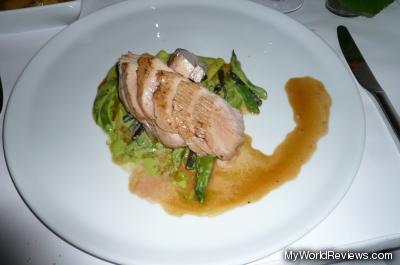 Stone Barns Berkshire Pork
String beans, lardo and herb pesto
The Berkshire Pork was an interesting dish. The string beans had a very unique flavor due to the herb pesto. The pork itself was surprisingly tough and chewy. I was surprised how difficult it was to chew through it.
Although the pork and beans each had a nice flavor, there really wasn't anything special about pairing them together. Occasionally certain items enhance each other nicely, but the herb pesto and pork don't do anything special together.
Braised Prosperosa Eggplant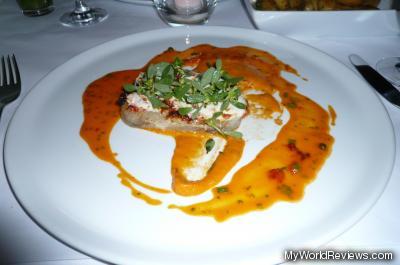 Braised Prosperosa Eggplant
Parmesan cheese, pureed tomatoes and capers
This eggplant dish was very similar to an eggplant parmesan. It was served with a creamy tomato sauce, and topped with cheese and greens. I was surprised how small this dish was. It was literally just one slice of an eggplant on a large plate. Although it tasted good, I hardly think that one slice of eggplant is worth $28. They could easily have added another 3 or 4 slices.
Roasted Potatoes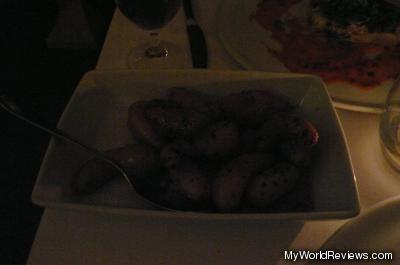 Roasted Potatoes
We ordered roasted potatoes as a side dish. They were quite affordable for only $6, and there were a lot of them. The potatoes were each pretty small, and there were definitely some interesting shapes! Unfortunately, they were quite bland. There was a sauce at the bottom of the dish (that looked like oil with basil), but the potatoes themselves weren't very flavorful.
The potatoes were well cooked, but I think they could have been better if they had been grilled a bit longer, and possibly made a bit crispy.
Blackberry Dessert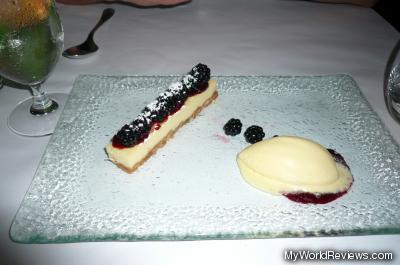 Blackberry
Blackberry cheesecake, almonds and corn ice cream
This dessert was really good - another highlight to the meal. The blackberry cheesecake was very tasty. The cheesecake was thick and creamy. The base was a thin, crunchy almond base. The blackberries on the cheesecake were excellent.
The corn ice cream was very unique. I have never had anything like it. Surprisingly, it went quite well with the blackberry flavor. I was surprised how tasty it was.
review contents
Dress
Cost
Service
Reservations
Items Ordered
Bread Sticks
Baby Carrots
This Morning's Farm Egg
Sweet Corn Ravioli
Stone Barns Berkshire Pork
Braised Prosperosa Eggplant
Roasted Potatoes
Blackberry Dessert
related reviews
More reviews in New York, NY
Been here? Want to write your own review of this restaurant?