Your Reviews About the World
MyWorldReviews.com
Let the world know what you think
Bleu
New York, New York, United States
808 West 187th Street
New York, New York, United States
10033
212-928-6006
bleuevolutionnyc.com
View Map
Overall Experience:
6 / 10
Date Visited:
Sunday, October 4, 2009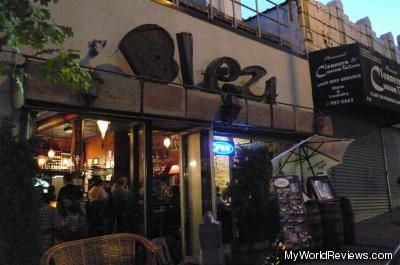 Bleu
Bleu is an Italian trattoria style restaurant located at the north end of Manhattan, near Fort Tryon Park in New York City. We had a pretty average meal there - everything we had was good. We weren't disappointed, but nothing was outstanding, either.
Dress
Very casual
Cost
Average - Most salads are around $10, and main courses around $20.
Items Ordered
Sangria Carafe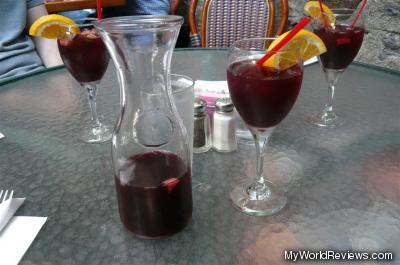 Sangria Carafe
Red or white sangria carafe
I don't think Sangria is really an Italian thing, but we noticed the table next to us had some, and it looked good, so we also ordered some. It was fruity, with some small pieces of apple in it.
Mediterranean Tapas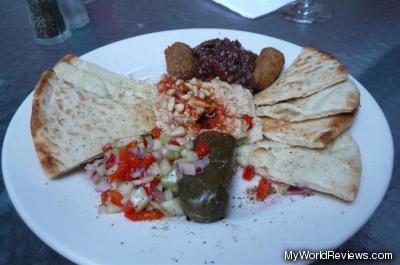 Mediterranean Tapas
Falafel, Hummus, Pita Bread, Eggplant pure w/mediterranean salad
The strangest thing about this plate was the falafel balls - they weren't traditional falafel. It almost felt like fried spiced mashed potatoes. The other items were all fairly typical.
Grilled Salmon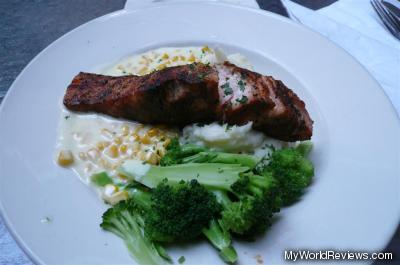 Grilled salmon
With mashed potato, cream corn sauce and broccoli.
The grilled salmon was very well grilled on the outside, but the inside could have been coked a bit longer. The broccoli was pretty plain - it tasted just like plain broccoli that had been steamed. The cream corn sauce was delicious - the corn was quite sweet, and so was the cream.
Eggplant rollatini
Eggplant rollatini
Sliced eggplant rolled with ricotta cheese and herbs, baked in marinara sauce served with sauteed spinach.
The eggplant was in a fried batter, which was a bit unexpected. This was more like an eggplant parmesan. The eggplant rollatini was also quite salty.
review contents
Dress
Cost
Items Ordered
Sangria Carafe
Mediterranean Tapas
Grilled Salmon
Eggplant rollatini
related reviews
More reviews in New York, NY
Been here? Want to write your own review of this restaurant?