Your Reviews About the World
MyWorldReviews.com
Let the world know what you think
Bistro Les Amis
New York, New York, United States
180 Spring St.
New York, New York, United States
10012
212-226-8645
www.bistrolesamis.com
View Map
Overall Experience:
7 / 10
Date Visited:
Thursday, May 21, 2009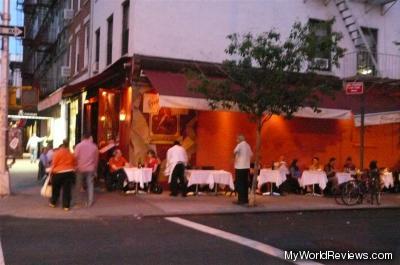 Bistro Les Amis in SoHo
Bistro Les Amis is a French restaurant located in the classy SoHo neighborhood of New York City. The restaurant has a European feel with outdoor dining tables lined against the wall so you can eat and watch people walking by on the street at the same time. The food was really good with the exception of the steak which was mediocre. The prices were reasonable and the atmosphere was great. This is a great place to enjoy a meal on a nice day.
Dress
Casual - nice jeans and a nice shirt would be appropriate.
Cost
The prices are average for the area. Entrees are $20-$30.
Service
The service was adequate. They were accommodating in getting us a nice table outside.
Reservations
They do take reservations, and depending on when you are going you may want to reserve a table outside. We were able to get a table without waiting.
Items Ordered
Bread and Olives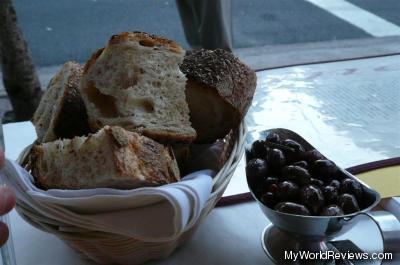 Bread and Olives
Our table was provided with a basket of toasted bread and a dish of olives as well as some butter.
Salad Du Bistro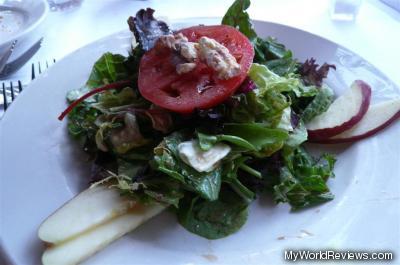 Salad Du Bistro
Mixed green salad
I was quite impressed with this salad. The description made it sound like it was just going to be a lettuce salad, but it also included a few slices of apple, a tomato slice, and some walnuts. I also enjoyed the dressing - it went well with this salad.
Escargot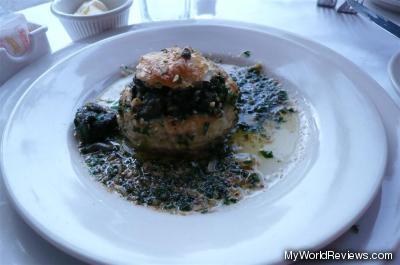 Escargot
This escargot dish was on the special menu for the evening. The escargot were baked inside a filo pastry and covered with garlic butter. The garlic butter was overwhelming so that you couldn't taste the escargot.
Filet de poulet sauce forestiere et risotto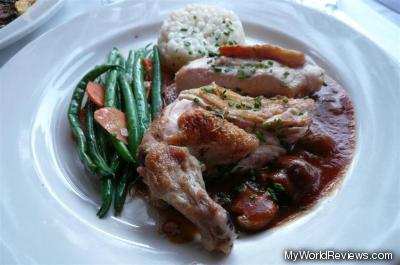 Filet de poulet sauce forestiere et risotto
Rosemary scented Breast of Chicken with mushroom sauce served with risotto
The chicken was delicious. It was moist and had a really nice sauce. The vegetables were cooked with a bit of butter. The risotto was good and had a mild creamy flavor that also went well with the sauce.
Steak frites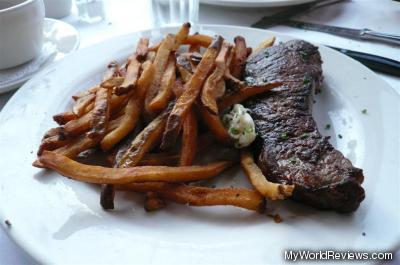 Steak frites
Steak Frites with Herb Butter
The steak was ok. There were a lot of less desirable pieces. It wasn't the most flavorful steak I've had and was a bit tough. The fries were interesting. They were very crispy and cooked dark, but still tasted good.
review contents
Dress
Cost
Service
Reservations
Items Ordered
Bread and Olives
Salad Du Bistro
Escargot
Filet de poulet sauce forestiere et risotto
Steak frites
related reviews
More reviews in New York, NY
Been here? Want to write your own review of this restaurant?