Your Reviews About the World
MyWorldReviews.com
Let the world know what you think
Bill's Bar & Burger
New York, New York, United States
22 Ninth Avenue
New York, New York, United States
10014
212-414-3003
billsbarandburger.com
View Map
Overall Experience:
6 / 10
Date Visited:
Friday, July 29, 2011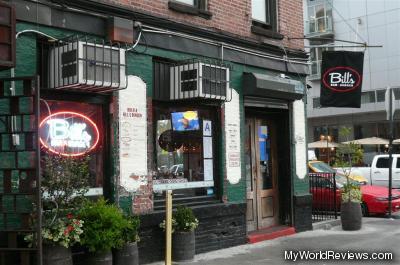 Bill's Bar & Burger
Seating:
Bar area dining room
Bill's Bar & Burger is a restaurant in NYC with a couple of locations. We visited the location in the meatpacking district. They offer a variety of bar food, with their main specialty being hamburgers. The food was all pretty good, although nothing special.
Dress
Very casual
Cost
Bill's Bar & Burger felt a little pricey for such simple food (in comparison to other hamburger places). Burgers were between $8-$11.
Reservations
We didn't have reservations at 7:30pm on a Friday, and there were a number of tables still available.
Items Ordered
Campfire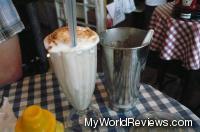 Campfire Milkshake
House made toasted marshmallow, vanilla ice cream
The campfire milkshake was quite good. It looked like all milkshake's at Bill's were huge. You get one full glass, and then the rest of the milkshake (that doesn't fit) in the metal mixing container. You can make another full milkshake out of the leftovers.
The campfire milkshake itself was a plain vanilla milkshake mixed in with chunks of melted marshmallow and topped with a delicious roasted marshmallow topping. It was sweet, gooey, and went well with the milkshake (although we found we had to eat it with a fork).
The Classic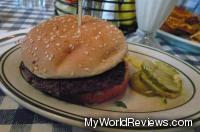 The Classic
On a toasted sesame bun with lettuce/tomato/pickle
The classic burger, cooked to order, was a pretty typical burger. The meat had a little bit of seasoning, but it was still a pretty average burger.
Bill's Burger & Disco Fries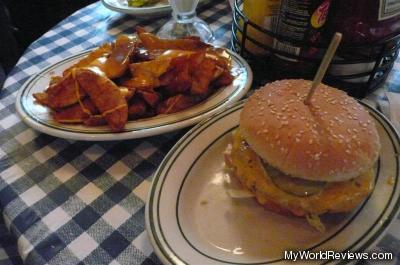 Bill's Burger & Disco Fries
Bill's Burger: The classic with cheese, lettuce/tomato/pickle, special sauce
Disco Fries: Smothered with gravy & melted cheese
Cost:
Bill's Burger - $8.95. Disco fries - $4.75
Bill's Burger is the classic burger covered in american cheese and a special sauce that tasted like mayonnaise. It was very messy to eat. I would probably order the classic next time - the special sauce wasn't tasty enough to deal with all the extra mess.
The disco fries had american cheese on them, and a little bit of gravy. The fries themselves were thick-cut and nicely battered. I was hoping the cheese/gravy would have been more similar to canadian Poutine, but the disco fries were still pretty good. They felt very heavy.
review contents
Dress
Cost
Reservations
Items Ordered
Campfire
The Classic
Bill's Burger & Disco Fries
related reviews
More reviews in New York, NY
Been here? Want to write your own review of this restaurant?