Your Reviews About the World
MyWorldReviews.com
Let the world know what you think
Big Daddy's
New York, New York, United States
239 Park Ave. South
New York, New York, United States
10003
212-477-1500
www.bigdaddysnyc.com
View Map
Overall Experience:
6 / 10
Date Visited:
Thursday, August 14, 2008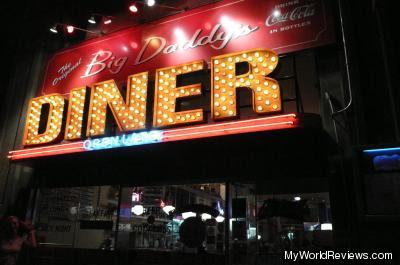 Big Daddy's Diner is a 50's style diner located near Union Square. The restaurant is very vibrantly decorated and has a fun theme. Each table has a set of trivial pursuit cards to read while you're waiting for your food.
It's a fun atmosphere with pretty greasy food. It's what you would expect from a place like this. They offer burgers and fries and all day breakfasts.
Cost
Most entrees are $10-$15.
Dress
Very Casual - shorts and a t-shirt are fine.
Items Ordered
Chocolate Milk Shake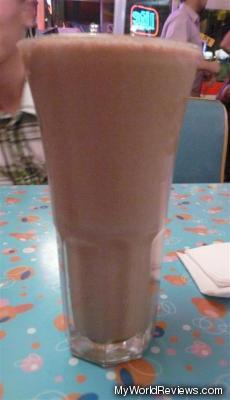 Milk Shake
When the waitress asked if we wanted anything to drink, she listed some of their popular choices. When she mentioned milkshake and I sounded interested, she mentioned that they were made with Häagen-Dazs ice cream. I'm glad I decided to get it. It's the best thing we had here. You could tell it was made from a really good ice cream. This is one of the best milk shakes I've ever had.
All American Burger 101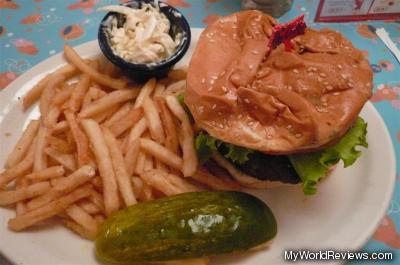 American Burger 101
Classic 8oz burger, with lettuce & tomato. Served with fries or tater tots, coleslaw & pickles.
The burger was a pretty typical thick burger. It was well cooked, like I ordered. The coleslaw was not bad, but also pretty typical. The fries were nice and crispy.
Jr. Burgers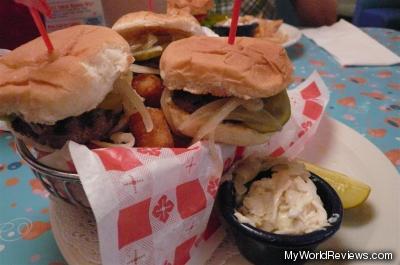 Jr. Burgers
Three mini burgers on mini buns with mini fixings. Served with fries or tater tots, coleslaw & pickles.
These burgers were small and thin, but otherwise the same as the American burger. They came with pickles and grilled onions. The coleslaw was the same as the one that came with the American burger. The tater tots were really good - crispy bundles of potato, yum!
review contents
Cost
Dress
Items Ordered
Chocolate Milk Shake
All American Burger 101
Jr. Burgers
related reviews
More reviews in New York, NY
Been here? Want to write your own review of this restaurant?