Your Reviews About the World
MyWorldReviews.com
Let the world know what you think
Bhatti Indian Grill
New York, New York, United States
100 Lexington Avenue
New York, New York, United States
10016
212-683-4228
www.bhattinyc.com
View Map
Overall Experience:
6 / 10
Date Visited:
Saturday, April 3, 2010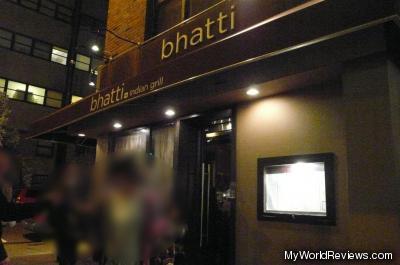 Bhatti Indian Grill
Bhatti is an Indian restaurant located in the Murray Hill neighborhood of Manhattan. The restaurant is just one of many Indian restaurants on Lexington Ave between 27th St and 28th St. After looking at a few menus, we chose this place because it was very busy but had one table open.
The food was good, and a little bit different from what I'm used to seeing at an Indian restaurant. I didn't find the food to be very spicy. Everything we ordered was mild to medium.
Dress
Casual
Cost
Most entrees are $10-$15. Entrees came a-la-carte. Rice and Naan bread was sold separately for $2.95 each.
Reservations
The restaurant is small and was very busy on a Saturday night. I would recommend making reservations if you want to be sure to get a table.
Items Ordered
Bhutte ke Kebab
Bhutte ke Kebab
Poached corn kernels blended with herbs and mashed potatoes, pan-grilled.
This appetizer was something I had not tried before. It was like a mashed potato ball coated in a light breading and fried. It had just a hint of spice to it and just a few pieces of corn.
Khatte Baigan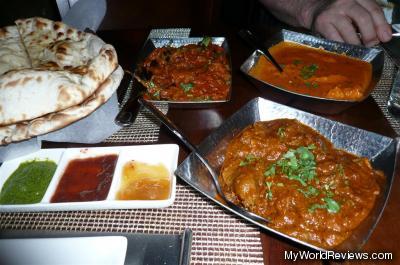 Khatte Baigan, Murgh Tikka Masala, Bhuna Gosht
Eggplant, stir-fried in a special onion-tomato masala, garnished with pickled ginger juliennes.
The eggplant dish was my favorite. It had a really nice tomato based sauce. It wasn't spicy, and perhaps a little bit sweet. I usually like eggplant, and I thought these little Indian eggplants were really good.
Murgh Tikka Masala
Marinated cubes of chicken grilled and finished to perfection in a creamy tomato sauce.
The chicken was a typical chicken tikka masala with a creamy sauce. It was also not spicy.
Bhuna Gosht
Boneless pieces of tender goat meat cooked with garlic, ginger, in a thick brown sauce finished with saffron water.
The goat was perhaps the only slightly spicy dish. When we made our order, we were told they only had goat on the bone. We decided to try it anyway, but the bone was really annoying. I think there was more bone than meat in the dish.
review contents
Dress
Cost
Reservations
Items Ordered
Bhutte ke Kebab
Khatte Baigan
Murgh Tikka Masala
Bhuna Gosht
related reviews
More reviews in New York, NY
Been here? Want to write your own review of this restaurant?