Your Reviews About the World
MyWorldReviews.com
Let the world know what you think
Benihana
Honolulu, Hawaii, United States
2005 Kalia Rd.
Honolulu, Hawaii, United States
96815
808-955-5955
benihana.com
View Map
Overall Experience:
8 / 10
Date Visited:
Thursday, May 22, 2008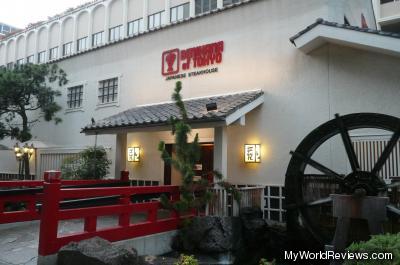 Benihana is a chain of fun "dinner show" restaurants. Each table (of 8 people) has their own chef that cooks your food right in front of you. The chef also performs some fun "tricks" to entertain you while your food is cooking. Our chef was both friendly and comedic. Each chef does slightly different tricks, so it's fun to watch other tables while you're waiting for your chef to arrive.
We had a bit of difficulty finding this location. It's actually located inside the Hilton Hawaiian Village complex, with a separate entrance from the outside.
Reservations
Reservations aren't required, but they're definitely recommended. It can be quite busy here.
Cost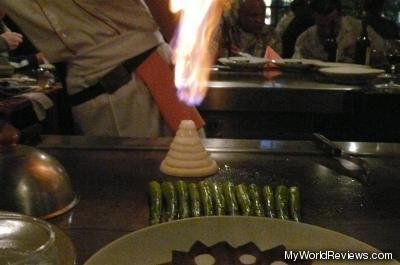 Asparagas and an onion volcano
Benihana is a bit more expensive than an average restaurant, but when you consider the service and experience you receive, it's quite reasonably priced. The traditional dinners range in price from $18.50 to $30.
Dress
Dress is fairly casual. Some people were wearing smart casual clothes, but shorts and a t-shirt is fine for this location. (Everything is a bit more casual in Hawaii).
Items Ordered
Sukiyaki Steak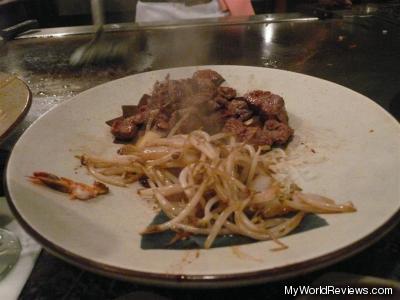 Steak and cooked bean sprouts
Thinly sliced aged steak. Served with Japanese onion soup, Benihana salad, shrimp appetizer, hibachi vegetables, steamed rice and green tea
The Sukiyaki steak was quite tasty. The waiter asks how you'd like it cooked, and then proceeds to cook it that way for you.
The onion soup that preceded this dish was fairly watery, without a strong onion flavor. The salad was quite poor - just a few pieces of iceberg lettuce in a bowl. However, the shrimp and vegetables were quite a bit of fun. Our chef was able to de-tail the shrimp with expert speed, and then proceeded to play around with some of the tails. He was very impressive to watch.
The chef also cooked asparagus, bean sprouts, mushrooms, and an onion for our group. Each group member was given a bit of each type of vegetable, and a few shrimp.
Filet Mignon
Shrimp appetizer and some vegetables
Aged tenderloin steak. Served with Japanese onion soup, Benihana salad, shrimp appetizer, hibachi vegetables, steamed rice and green tea
This steak was also served with the same shrimp and vegetables that came with the Sukiyaki steak. (All of the "traditional dinners" come with the same accompaniments). This steak was also quite good. I thought it was quite similar to the Sukiyaki steak. I couldn't taste the difference. In the future, I would probably order the Sukiyaki steak, since it was a bit cheaper.
Service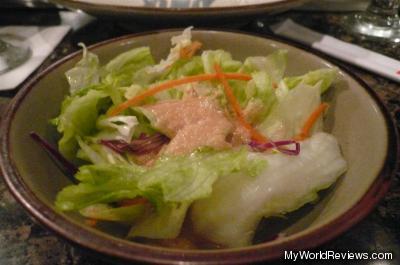 The very weak salad
Since most of the food is cooked right in front of you the waiters actually do very little. They take your order and bring you soup and salad. Even though we saw so little of our waitress I thought it was too much. I found her very annoying. She seemed to be pretending to be a stereotypical Japanese, making a very fake accent. I was also annoyed that tips go to the servers who actually do very little to make your dinner pleasant while the chef gives you a full service show.
review contents
Reservations
Cost
Dress
Items Ordered
Sukiyaki Steak
Filet Mignon
Service
related reviews
More reviews in Honolulu, HI
Been here? Want to write your own review of this restaurant?