Your Reviews About the World
MyWorldReviews.com
Let the world know what you think
Ben & Jerry's
New York, New York, United States
680 West 8th Avenue
New York, New York, United States
10036
212-221-1001
View Map
Overall Experience:
7 / 10
Date Visited:
Monday, April 14, 2008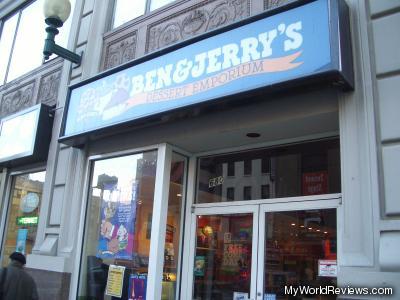 Ben & Jerry's is an ice cream chain. This location was at the corner of 8th Ave. and 43rd Street in Manhattan. There was a small indoor seating area. This is a good place to go for some high quality ice cream on a hot day.
Dress
Very casual
Cost
Ben & Jerry's is always a little expensive for an ice cream place, but their ice cream does taste quite good (although it's probably very fatty, and not good for you!)
Service
You place your order at the counter, and are given your ice cream right there. You pay at the cashier. There isn't any table service.
Cinnamon Bun Ice Cream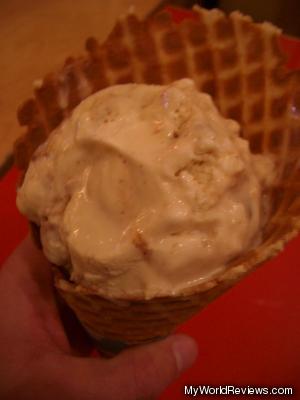 Cinnamon bun ice cream in a waffle cone
Caramel ice cream with cinnamon bun dough & a caramel streusel swirl
Cost:
$3.92, plus $1 for the waffle cone
This ice cream tasted remarkably like a cinnamon bun in ice cream form. I was impressed! The things they describe as "cinnamon bun dough" tasted just like cookie dough, although the ice cream itself had a very nice cinnamon flavor.
review contents
Dress
Cost
Service
Cinnamon Bun Ice Cream
related reviews
More reviews in New York, NY
Been here? Want to write your own review of this restaurant?