Your Reviews About the World
MyWorldReviews.com
Let the world know what you think
Barbounia
New York, New York, United States
250 Park Ave S
New York, New York, United States
10003
212-995-0242
barbounia.com
View Map
Overall Experience:
5 / 10
Date Visited:
Sunday, August 2, 2009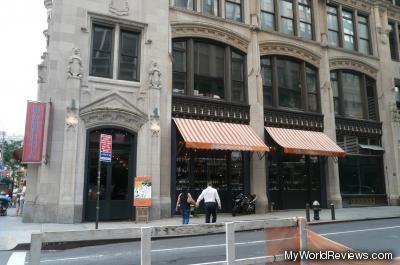 Barbounia
Barbounia is a Mediterranean restaurant located just east of Union Square in Manhattan. It is a nice looking restaurant that is fairly new, but our group was all a bit disappointed with what we ordered.
Dress
Nice casual - jeans and a nice shirt are fine.
Cost
A bit on the pricey side for what you get. Most entrees are around $25.
Service
There was nothing worth mentioning about the service
Reservations
We made reservations for 7pm on a Sunday, and the restaurant was fairly full.
Items Ordered
Hummus and bread
Hummus and bread
Cost:
$8.50 for the hummus; the bread was complimentary
The hummus was a pretty typical hummus. It was no better than what you could buy at any grocery store. The flatbread had some nice spices on top, and was served with a small dish of olives.
Red Snapper Ceviche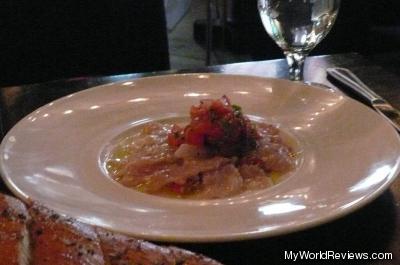 Red Snapper Ceviche
Tabbouleh, cherry tomato, cilantro, olive oil & lemon juice
I didn't like the red snapper ceviche. The fish was raw, and tasted like the sea. The topping tasted very much like tabbouleh and lemon juice - another combination that I'm not all that fond of.
Roasted Lemon Chicken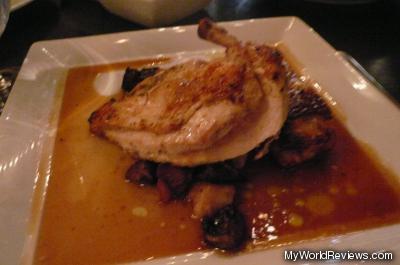 Roasted Lemon Chicken
pan-seared breast, sunchokes & cremini mushrooms
The chicken was disappointingly dry. There was one piece of the chicken that was stuffed with chestnuts - that piece was quite good. Underneath the chicken were mushrooms and something that felt like a potato, but not quite. They were OK.
Citrus Marinated Salmon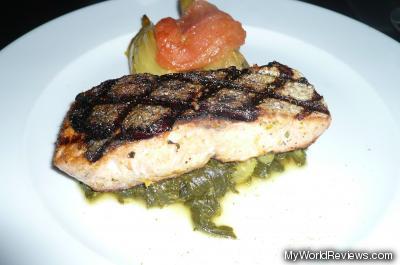 Citrus Marinated Salmon
With tomato confit, fennel, swiss chard & sorrel sauce
I ordered the salmon cooked well done, and it arrived quite charred on the outside. Despite the name, it didn't have much of a citrus flavor. It didn't have much flavor at all, really. It was on top of a bed of spinach, which was just OK. The artichoke and tomato that it came with were also just mediocre. Everything was quite bland.
review contents
Dress
Cost
Service
Reservations
Items Ordered
Hummus and bread
Red Snapper Ceviche
Roasted Lemon Chicken
Citrus Marinated Salmon
related reviews
More reviews in New York, NY
Been here? Want to write your own review of this restaurant?