Your Reviews About the World
MyWorldReviews.com
Let the world know what you think
Bali Nusa Indah
New York, New York, United States
651 Ninth Ave
New York, New York, United States
10036
212-974-1875
View Map
Overall Experience:
5 / 10
Date Visited:
Thursday, November 5, 2009
Bali Nusa Indah
Bali Nusa Indah is an Indonesian Restaurant located in the Hell's Kitchen neighborhood in NYC. There are many Thai restaurants here, so we thought we were trying something different by trying Indonesian. Actually, I found the food we had here very similar to Thai food, so I was disappointed. I was not overly impressed by the quality of the food either. Everything we had was just OK.
Dress
Casual - jeans and a t-shirt are fine.
Cost
The food is quite affordable - appetizers were around $5, and most entrees were $14.
Service
The service was pretty fast. We were in a hurry to get to a show, and we had no problem meeting our schedule.
Reservations
The restaurant is pretty small, but there were still a few tables open the entire time we were there.
Items Ordered
Perkedel Jagung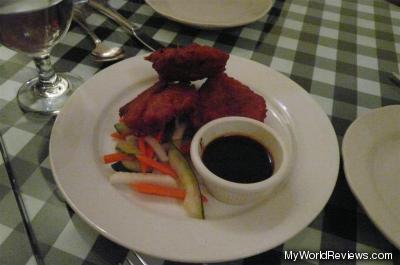 Perkedel Jagung
Corn fritters with shrimp of Corn fritter with veggie
These were pretty good. They were like fried patties with shrimp and vegetable. I couldn't really tell that they were corn and not potato. They came with a sauce that was a bit sweet. There was also a small salad that was actually quite tasty with a mild sweet dressing.
Sate Ayam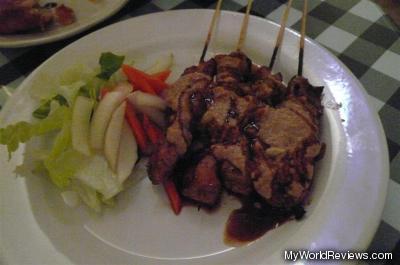 Sate Ayam
Indonesian barbeque chicken with peanut sauce
This was a pretty typical chicken satay with peanut sauce. The salad was the same as the one that came with the corn fritters.
Ayam Black Bean Sauce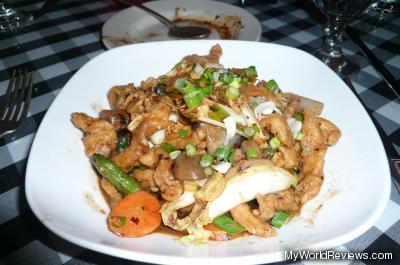 Ayam Black Bean Sauce
Stir Fried Chicken and vegetables with Black Bean Sauce
The stir fry was ok. The Chicken was a bit weird with crispy pieces. There wasn't as much vegetables as I would have liked. I liked the bean sauce, but it was very salty.
Kari Sayuran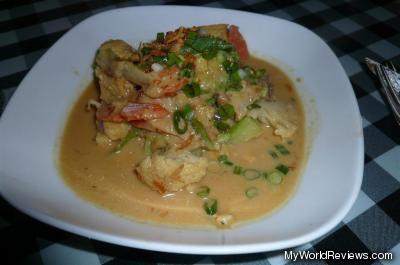 Kari Sayuran
Indonesian vegetables curry
The curry was not very spicy. It had a nice strong coconut flavour. There were a number of large tofu chunks in here, but otherwise it was fairly liquidy.
review contents
Dress
Cost
Service
Reservations
Items Ordered
Perkedel Jagung
Sate Ayam
Ayam Black Bean Sauce
Kari Sayuran
related reviews
More reviews in New York, NY
Been here? Want to write your own review of this restaurant?