Your Reviews About the World
MyWorldReviews.com
Let the world know what you think
Back Forty West
New York, New York, United States
70 Prince Street
New York, New York, United States
10012
212-219-8570
backfortynyc.com
View Map
Overall Experience:
7 / 10
Date Visited:
Saturday, May 26, 2012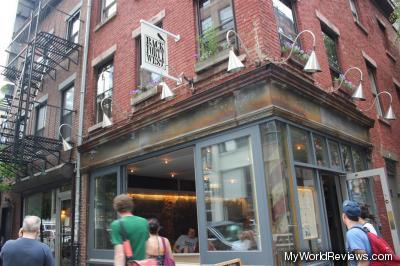 Back Forty West
Back Forty West is a cute restaurant in an old house. There is seating on both the main level and upstairs. The decor makes it feel like a rustic country home. There is a lot of wood and it feels nice and homely. We only had a small lunch here, but it was pretty good.
Dress
Fairly casual, at least for brunch
Cost
Items ranged from about $12-$10
Reservations
We didn't have reservations when we visited around noon on a saturday. The restaurant filled up shortly after we arrived.
Items Ordered
Fresh Fava Bean Hummus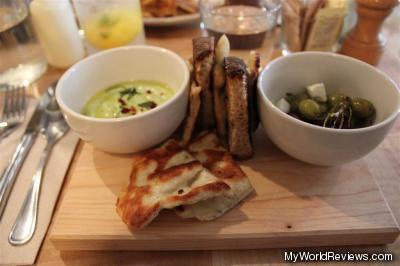 Fresh Fava Bean Hummus
Marinated olives, pickles, housemade flatbread
The hummus dish came with two types of bread - a pita-like flatbread and a regular wheat bread. The fava bean hummus was a light green color and was quite good. It went especially well with the flatbread. This dish was also served with a small bowl of olives and feta cheese.
Grass Fed Burger
Grass Fed Burger
Orwasher's potato roll.
Cost:
$12 for the burger; fries, bacon, or cheese were an additional $2 each
The burger was ordered well done, but was initially still quite pink in the middle. It was a pretty average burger. We ordered the burger with the rosemary fries, and there were a lot of them. They were only lightly seasoned, but were well cooked and quite tasty.
review contents
Dress
Cost
Reservations
Items Ordered
Fresh Fava Bean Hummus
Grass Fed Burger
related reviews
More reviews in New York, NY
Been here? Want to write your own review of this restaurant?