Your Reviews About the World
MyWorldReviews.com
Let the world know what you think
B&T Supreme Pizza
New York, New York, United States
132 East 86th Street
New York, New York, United States
212-828-2600
View Map
Overall Experience:
4 / 10
Date Visited:
Sunday, January 11, 2009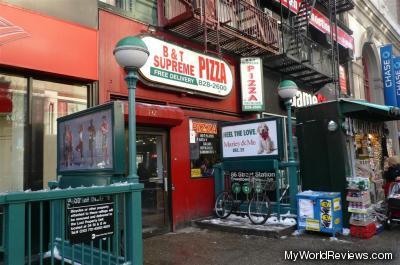 B&T Supreme Pizza in the Upper East Side
B&T Pizza Supreme is a typical pizzeria in NYC. A long bar lines the wall, and offers the only seating in the restaurant. There are several pizzas to choose from, with a variety of toppings. We have come to expect a certain quality of pizza from NYC pizzerias, and this one was a slight disappointment.
Dress
Casual
Cost
$8 for two slices of pizza
Service
You choose your pizza at the counter, pay, and wait for your slice to be heated.
Items Ordered
Pizza Slice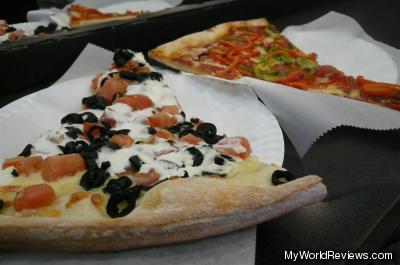 Two Slices of Pizza
The white cheese on the pizza with white cheese, olives, and tomatoes was really good. It was a nice creamy soft cheese and was not greasy at all. The slice with pepperoni, mozzarella, and peppers was a very typical slice of greasy pizza. It is not what we've come to expect from NYC quality. The crust was thin and dry. Both slices had a good coverage of toppings.
review contents
Dress
Cost
Service
Items Ordered
Pizza Slice
related reviews
More reviews in New York, NY
Been here? Want to write your own review of this restaurant?