Your Reviews About the World
MyWorldReviews.com
Let the world know what you think
BANY
Long Island City, New York, United States
10-57 Jackson Ave
Long Island City, New York, United States
11101
(718) 383-2388
banynyc.com
View Map
Overall Experience:
6 / 10
Date Visited:
Sunday, August 29, 2010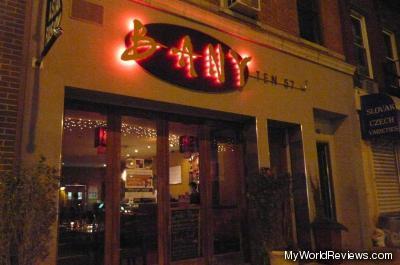 BANY Ten 57 in Long Island City
BANY is an Asian fusion restaurant in Long Island City. It is steps away from the 7 subway train. The restaurant serves a mix of Thai and Japanese food, and has a sushi counter and Chef in the dining room. They have a small backyard area, which seemed quite nice, but it was too hot out when we went. The food was pretty good, but I have had better. The name (Best Asian New York) may be misleading, because it is not even the best Asian food in Long Island City.
Dress
casual
Cost
Entrees were around $15-$20
Service
The service was very casual. They had no problem leaving us to chat for a long time after our dinner - we had to flag someone over to bring our check.
Reservations
The restaurant was not very busy. There was no need for reservations on a Sunday evening.
Items Ordered
Sweet Potato Roll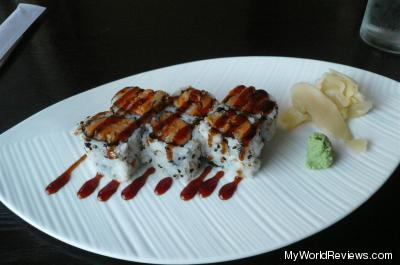 Sweet Potato Roll
6 pieces
I am not a fan of sushi, but I really liked these rolls. If you like sweet potatoes, and like avocado rolls, you would know what to expect. The sweet potatoes were a little bit fried and crispy inside the roll.
Chicken Teriyaki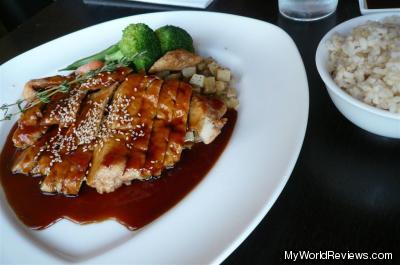 Chicken Teriyaki
The chicken Teriyaki also came with a starter of miso soup. The chicken was not quite what I was expecting. It was mostly chicken, with just a little bit of vegetables, and surprisingly potatoes. I don't think I've ever had potatoes like this at an Asian restaurant. The teriyaki was a sweet thick sauce. I was hoping for something more like a stir-fry, but it wasn't clear on the menu.
Red Curry Chicken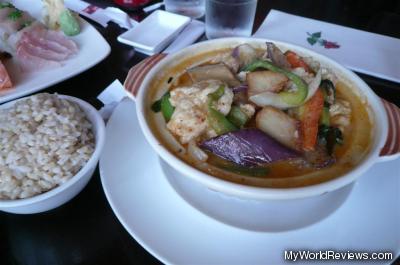 Chicken Red Curry
hot and spicy eggplant, potato, bell peppers, basil leaf, and coconut milk.
The curry was served in a hot dish and was still bubbling when it arrived. It had a lot of vegetable and was medium spicy.
review contents
Dress
Cost
Service
Reservations
Items Ordered
Sweet Potato Roll
Chicken Teriyaki
Red Curry Chicken
related reviews
More reviews in Long Island City, NY
Been here? Want to write your own review of this restaurant?