Your Reviews About the World
MyWorldReviews.com
Let the world know what you think
Arturo's
New York, New York, United States
106 W. Houston St.
New York, New York, United States
10012
212-677-3820
View Map
Overall Experience:
6 / 10
Date Visited:
Friday, October 29, 2010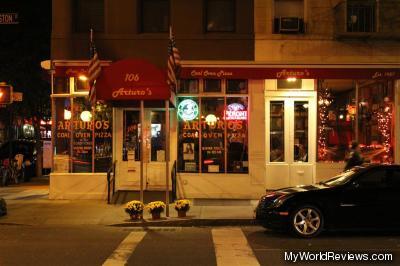 Arturo's
Seating:
Indoor Dining Room
Arturo's is an Italian restaurant located on Houston street in NYC. Their main attraction is their coal oven pizza, which was slightly above average for NYC pizza. The decor of the restaurant wasn't too fancy but there was someone playing piano music in the restaurant when we arrived (they stopped shortly after we were seated)
Dress
Very casual
Cost
Our pizza came to about $30 for a single large pizza, which I thought was a bit on the steep side.
Items Ordered
Rice Balls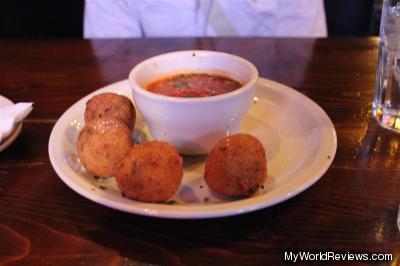 Rice Balls
The order of rice balls came with four small fried balls of rice with a bowl of tomato sauce in the middle. The tomato sauce went really well with the rice balls, which were pretty typical fried rice balls with just a bit of cheese inside.
Large Pizza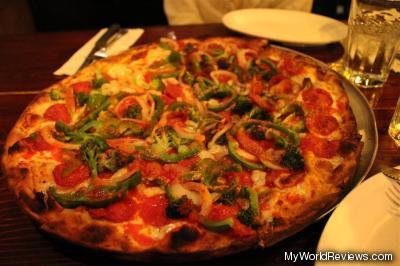 Large Pizza
Cost:
$29 ($21 for a large pizza plus $4 for pepperoni and $4 for broccoli)
The pizza was pretty good - it looked like Arturo's had sprinkled some seasoning on top, but it didn't add all that much flavor. The pizza had a charred crust, which I guess is how they're traditionally made.
review contents
Dress
Cost
Items Ordered
Rice Balls
Large Pizza
related reviews
More reviews in New York, NY
Been here? Want to write your own review of this restaurant?