Your Reviews About the World
MyWorldReviews.com
Let the world know what you think
Antique Garage
New York, New York, United States
41 Mercer St.
New York, New York, United States
212-219-1019
www.antiquegaragesoho.com
View Map
Overall Experience:
6 / 10
Date Visited:
Friday, November 13, 2009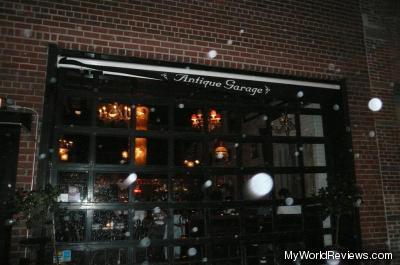 Antique Garage in SoHo
Antique Garage is a Turkish restaurant in the SoHo neighborhood of NYC. It has an interesting atmosphere of something like an antique Turkish garage. It's large garage door opens to the outside on nice days. The food was pretty good, although nothing special and seemed like it was overpriced. The appetizers were excellent, but the entrees tasted simple. I thought the service was also not up to standard for a restaurant in this price range.
Dress
Casual - jeans and a nice shirt are fine.
Cost
Most appetizers were $10-$20. Entrees were $20-$30.
Service
It seemed they had a problem with timing their service. We were not offered water until we had to ask for it, and they were very slow about refilling out water glasses. The entrees came out before we were finished with our appetizers, and they never took away our appetizer plate so that our table felt crowded.
Reservations
The restaurant was busy on a Friday night. We had about a 15 minute wait for a table. They do take reservations.
Items Ordered
Mixed Meze Platter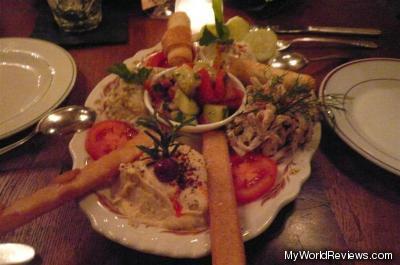 Mixed Meze Platter
Samplings of Humus, Tzatziki, Eggplant salad, Circassian chicken, Borek & Sheperd salad.
For this price, we thought we'd be getting a huge appetizer platter. It looked quite small when it arrived, but it was rather filling. We had difficulty finishing our entrees after sharing this appetizer among 3 people. All the samplings were excellent. The humus, tzatziki and eggplant salad were especially good. The sheperd salad was just a few pieces of tomato and cucumber in a light vinegar dressing. The chicken was a cold chicken salad. I was disappointed with the Borek, which was good, but not like the Borek I've had before. It was more like a spring roll phillo pastry filled with warm melted feta cheese.
Grilled Organic Chicken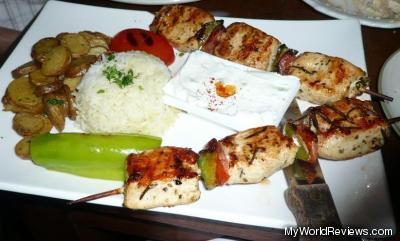 Grilled Organic Chicken
Marinated in olive oil with wild oregano and rosemary, skewered with vegetables and served with rice pilaf, roasted French fingerling potatoes and tzatziki sauce on the side
The chicken was pretty good. It was a moist chicken with a nice herb flavoring. There wasn't very much vegetable on the skewers, although there was half a tomato and a slice of pepper served grilled on the side. The potatoes were delicious - baked in a good amount of oil. The tzatziki sauce was the same as the one that came with the appetizer. The rice tasted like plain white rice.
Grilled Turkish Meatballs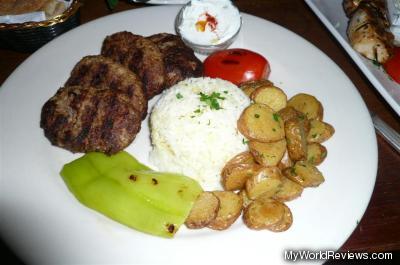 Grilled Turkish Meatballs
Mixture of ground beef and lamb seasoned with Turkish spices, served with rice pilaf, roasted potatoes, and tzatziki sauce on the side.
Everything in this dish was the same as the grilled chicken, except for the meatballs that replaced the chicken skewers. The meatballs had some spice in them, but were fairly dry.
review contents
Dress
Cost
Service
Reservations
Items Ordered
Mixed Meze Platter
Grilled Organic Chicken
Grilled Turkish Meatballs
related reviews
More reviews in New York, NY
Been here? Want to write your own review of this restaurant?