Your Reviews About the World
MyWorldReviews.com
Let the world know what you think
Angelo's Pizza
New York, New York, United States
117 West 57th Street
New York, New York, United States
10019
212-333-4333
angelospizzany.com
View Map
Overall Experience:
5 / 10
Date Visited:
Friday, January 21, 2011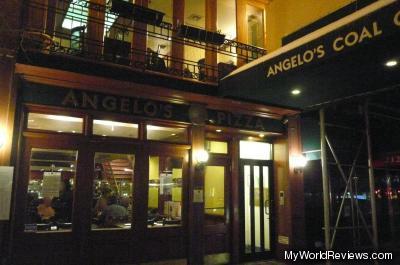 Angelo's Pizza
Seating:
Upstairs Dining Room
Angelo's Pizza is an italian restaurant located in midtown NYC on 57th street. They are a fairly large restaurant with seating on both the upper and lower levels. They had a fair amount of room left when we visited (7pm on a Friday), and there was enough space that it felt like a good place to bring a group. They are located a very short walk away from Carnegie Hall.
Dress
Very casual
Cost
More affordable than average for midtown.
Service
The staff was reasonably attentive and the service was very fast.
Reservations
There were some empty tables the whole time we were there (7-8pm on a Friday)
Items Ordered
Beet & Goat Cheese Salad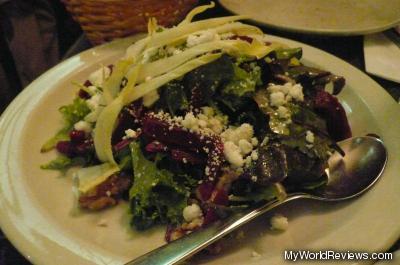 Beet & Goat Cheese Salad
Organic baby greens salad
The salad was large and pretty good. The salad had beets in it, although that may only be a seasonal thing. It was mostly a lettuce salad, but it had enough cheese and walnuts on it to keep it interesting.
Small Pizza with Pepperoni and Broccoli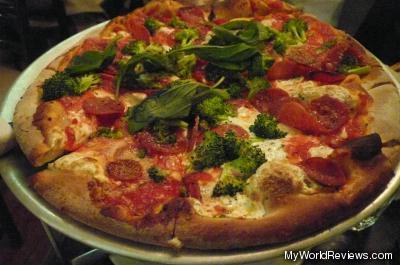 Small Pizza
Cost:
$20. Small $15.00 + any Topping $2.50 extra (Same price on Half or Whole)
This pizza was more like a typical New York City pizza than American style pizza. The crust was thin and dry, and the pizza was made with a proper white mozzarella cheese, although the crust was tougher than usual. It wasn't the kind of pizza that you need to fold in half to eat.
review contents
Dress
Cost
Service
Reservations
Items Ordered
Beet & Goat Cheese Salad
Small Pizza with Pepperoni and Broccoli
related reviews
More reviews in New York, NY
Been here? Want to write your own review of this restaurant?