Your Reviews About the World
MyWorldReviews.com
Let the world know what you think
Alma 33
New York, New York, United States
33 W 8th St
New York, New York, United States
10011
212-380-8794
almanyc33.com
View Map
Overall Experience:
6 / 10
Date Visited:
Thursday, May 5, 2011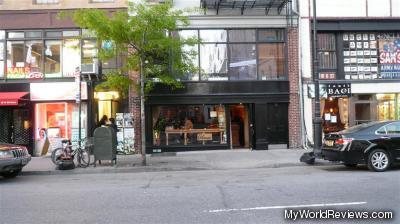 Alma 33
Alma 33 is a spanish restaurant located in Greenwich Village. The restaurant was nicely decorated on the inside and the food was all pretty decent.
Dress
It's a slightly upscale place, but still fairly casual. Nice jeans and a shirt are fine.
Cost
The portion sizes were pretty small, but the restaurant was still pretty affordable. We paid $120 for 3 people.
Service
The staff seemed quite accommodating. They made an effort to come over a couple of times throughout the evening and greet us by name (the name we made the reservation under). They even remixed one of our drinks to our liking.
Items Ordered
Pintxos de Polenta, Hojaldre, and Empanaditas de Carne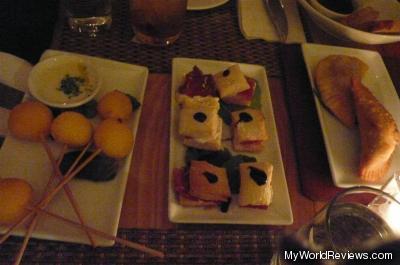 Pintxos de Polenta, Hojaldre, and Empanaditas de Carne
Hojaldre - Typical argentinian puff pastry with mascarpone cream, jamon serano and balsamic glaze
Empanaditas de Carne - Empanadas filled with red wine-braised short ribs and green olives
Pintxos de Polenta - Fried polenta lollipops with fondue

Cost:
$7 (Hojaldre), $8 (Empanaditas de Carne), $5 (Pintxos de Polenta)
The poltena balls were nicely fried with a mild cheese sauce. They were OK.
The pastries were cute and tasty. They had a little thin slice of meat in them and a dot of a balsamic vinegar reduction on top.
The empanadas were pretty typical ones that are available at most mexican fast food places.
Patatas Bravas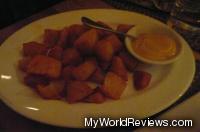 patatas bravas
oven roasted spicy potatoes with salsa brava
The patatas bravas were small-cut potatoes served with a nicely spiced mayonnaise dip. They were quite good - I think we should have ordered a second portion of them.
Parrillada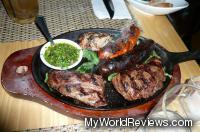 Parrillada
Argentine mixed grill
The mixed grill had two medium-sized pieces of beef, two sausages, and a small piece of a miscellaneous meat that looked like the color of chicken but tasted like liver. We weren't sure what the misc. meat was, but none of us liked it. The sausages were both pretty tasty, and the beef was a bit on the chewy side but it had a nice flavor.
Green Beans & Mushrooms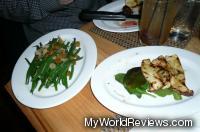 Green Beans & Mushrooms
Cost:
Unknown (we ordered them after the menus were taken away)
The green beans and mushrooms were both pretty plain tasting. The green beans had some almond slivers and raisins on top. The beans were lightly cooked so they were still a bit firm. The mushroom slices were just grilled slices of mushrooms. I don't think they were flavored with anything.
Desserts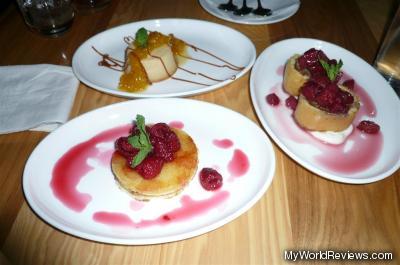 Desserts
Cost:
Unknown - we weren't given a dessert menu, just told what items were available
The desserts at Alma 33 were all very good.
(clockwise from top)
The flan had a marmalade on top. It was one of the best flan's I've had. It was very creamy and smooth without being gummy. It had a light dulce de leche flavor.
The sponge cake roll was topped with diced strawberries and rhubarb. It had a nice light fruity flavor.
The last dessert was a very thin white chocolate cake. It was rich, but was balanced by the raspberries.
review contents
Dress
Cost
Service
Items Ordered
Pintxos de Polenta, Hojaldre, and Empanaditas de Carne
Patatas Bravas
Parrillada
Green Beans & Mushrooms
Desserts
related reviews
More reviews in New York, NY
Been here? Want to write your own review of this restaurant?