Your Reviews About the World
MyWorldReviews.com
Let the world know what you think
Aged
New York, New York, United States
2398 Broadway
New York, New York, United States
10024
212-712-0700
www.agedrestaurants.com
View Map
Overall Experience:
7 / 10
Date Visited:
Saturday, November 19, 2011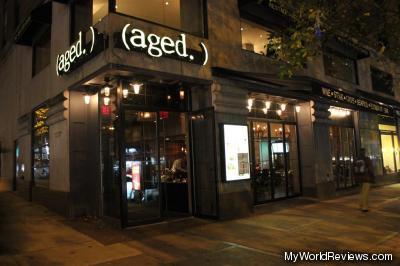 Aged in the Upper West Side
Aged is a steakhouse in the Upper West Side neighborhood of NYC. The atmosphere was a strange mix. The restaurant looked dark and romantic, but they are also family friendly - we had a crying baby at the table next to us. The food was all pretty good.
Dress
Nice casual.
Cost
Steaks were around $30. Sides were around $5.
Service
I had read online that there were some issues with the service, but we had a nice waitress and we didn't notice the service - our water glasses were kept full and our plates were taken away quickly.
Reservations
We were able to make reservations for dinner earlier in the day. There were a few tables open on a Saturday evening, and the restaurant was fairly large for NYC.
Items Ordered
Beet Salad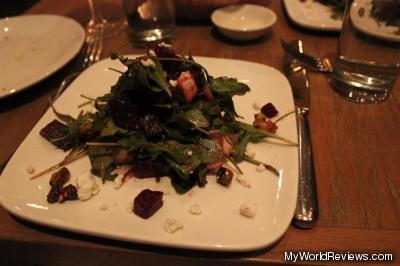 Beet Salad
endive, pear, goat cheese & caramelized pistachios
The salad was split on two plates for us for sharing. The salad was mostly lettuce with very little pear and some beets. The caramelized nuts were really good and went well with the dressing on the salad.
Mushroom Potato Gnocchi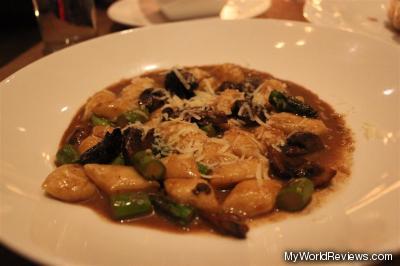 Mushroom Potato Gnocchi
asparagus, wiled mushrooms, (aged), parmigiano reggiano & porcini mushroom sauce
The gnocchi were really soft and creamy - they just melted in my mouth. The sauce had a nice mushroom flavor. There was a good mix of vegetables and gnocchi.
12 oz Filet Mignon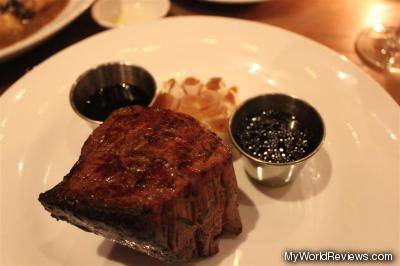 12oz Filet Mignon
The large filet mignon came with two sauces on the side - a bordelaise sauce and an aged house steak sauce. Both the sauces tasted like a fine red wine reduction and were very similar to each other. The meat was nice and tender and cooked to order. All their steaks are made from all natural hormone-free and antibiotic-free meat.
review contents
Dress
Cost
Service
Reservations
Items Ordered
Beet Salad
Mushroom Potato Gnocchi
12 oz Filet Mignon
related reviews
More reviews in New York, NY
Been here? Want to write your own review of this restaurant?