Your Reviews About the World
MyWorldReviews.com
Let the world know what you think
Adrienne's Pizza Bar
New York, New York, United States
54 stone street
New York, New York, United States
10005
212-248-3838
adriennespizzabar.com
View Map
Overall Experience:
7 / 10
Date Visited:
Wednesday, July 28, 2010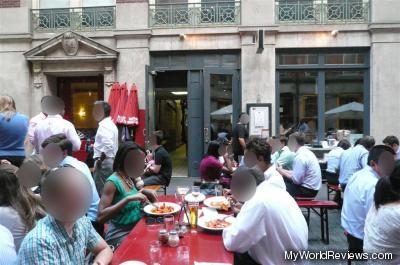 Adrienne's Pizza on Stone Street
Adrienne's Pizza Bar is a pizza restaurant located on Stone Street in downtown New York. Stone Street itself is such a fun place to go in the summer - it's full of outdoor tables, historic buildings, and a great social atmosphere. People are crowded together on tables, so you'll probably be siting next to people you don't know.
Adrienne's Pizza is a pretty good pizza spot. Their pizza is slightly greasier and more airy than a typical new york pizza, but it's still enjoyable occasionally.
Dress
Very casual; especially outdoors
Cost
Adrienne's is a bit on the pricey side.
Service
It's often really crowded, so they're good at dealing with crowds. Service is brisk to facilitate quick turnarounds.
Items Ordered
Caprese Salad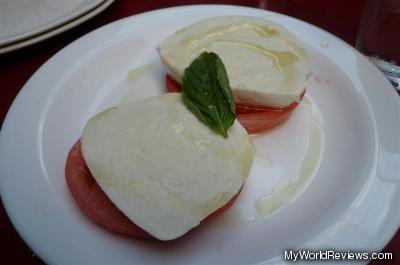 Caprese Salad
fresh mozzarella, tomatoes
The Caprese salad seemed a bit plain. The tomato didn't have as much flavor as I would have hoped.
Old Fashioned Pizza
Old Fashioned Pizza
Cost:
$17.50 + $3/topping ($26.50 total)
The pizzas at Adrienne's are rectangle shaped with ten rectangle slices. A whole pie serves 3 adults. It's not a typical new york thin pizza, and it probably has more fat, but it is a tasty alternative every now and then.
review contents
Dress
Cost
Service
Items Ordered
Caprese Salad
Old Fashioned Pizza
related reviews
More reviews in New York, NY
Been here? Want to write your own review of this restaurant?