Your Reviews About the World
MyWorldReviews.com
Let the world know what you think
9 To 5
New York, New York, United States
1535 Broadway
New York, New York, United States
10036
212-382-0100
9to5themusical.com
View Map
Overall Experience:
6 / 10
Date Visited:
Sunday, July 5, 2009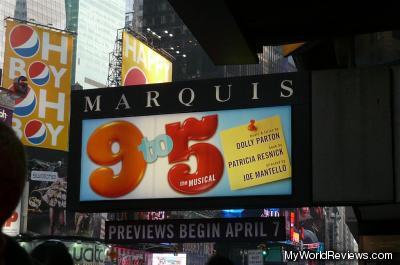 9 To 5 The Musical
9 To 5 is a Broadway Musical Comedy based on the 1980's movie of the same name. It is a "female empowerment" story that follows three women who work in an office with a sexist boss. They decide to improve working conditions by taking matters into their own hands.
The music, written by Dolly Parton, was OK. None of the songs were very memorable. The songs weren't bad, but they weren't very good, either. I usually don't like musicals of this type (lots of singing, dancing, and costumes), but I didn't mind it so much in 9 To 5. I think the story was entertaining enough that it kept me interested during the songs.
9 To 5 is mostly family friendly. There are a couple of "adult humor" moments, and a few slapstick comedy moments, but overall it's a decently entertaining show.
related reviews
More reviews in New York, NY
Been here? Want to write your own review of this live show?