Your Reviews About the World
MyWorldReviews.com
Let the world know what you think
99 Cent Fresh Pizza
New York, New York, United States
151 E 43rd St
New York, New York, United States
10017
212-922-0257
View Map
Overall Experience:
7 / 10
Date Visited:
Sunday, October 16, 2011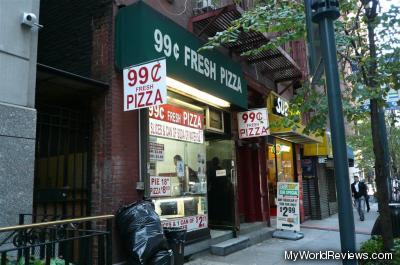 99 Cent Fresh Pizza
99 Cent Fresh Pizza is a small pizza store located on 43rd street, just E of Grand Central. As the name implies, they offer slices of pizza for $1 (instead of 99 cents). There is no indoor seating here, and no benches outside either, but you can get a slice to go and just stand outside and enjoy it quite comfortably.
I don't think this place offers any toppings - as far as I could tell their menu was incredibly simple.
Dress
Very casual
Cost
$1 for a slice of pizza.
Service
Just walk up to the counter, say how many slices you want, and enjoy!
Items Ordered
A slice of pizza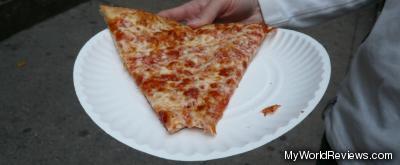 A slice of pizza
There's something about this pizza that is delicious. It's very simple, but quite good. The crust is thin and crisp. It's a bit on the greasy side, and the sauce is a little bit sweet, but the flavor is fantastic. For the price, it offers excellent value.
review contents
Dress
Cost
Service
Items Ordered
A slice of pizza
related reviews
More reviews in New York, NY
Been here? Want to write your own review of this restaurant?