Your Reviews About the World
MyWorldReviews.com
Let the world know what you think
5 Pointz
Long Island City, New York, United States
45-46 Davis Street
Long Island City, New York, United States
11101
317-219-2685
5ptz.com
View Map
Overall Experience:
6 / 10
Date Visited:
Friday, March 18, 2011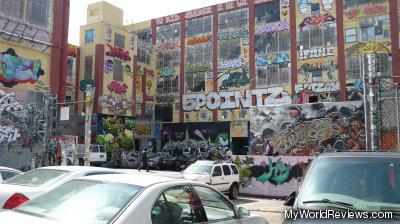 5 Pointz
5 Pointz is an old warehouse that is covered in graffiti, located in Long Island City, NYC. Graffiti artists come from all over to add their graffiti to the building (permit required).
The artwork on the exterior of the building can be viewed at all times. The building is open for painting (with a permit) on weekends from noon until 7pm. If you visit during a weekend, you may be able to see people painting.
There are a number of signs all around the building saying that photography and videos are prohibited without a permit.
Getting There
Take the 7 train to 45th Road / Court House Square, or the E/M trains to 23 St / Ely Ave. 5 Pointz is just a couple blocks from there, and is hard to miss.
Estimated Visiting Time
There isn't much to do other than walk around the outside of the building - if you happen to just stumble upon it, you'll probably spend 5 minutes looking at the artwork. If you make a special trip out, you may want to devote 15-20 minutes looking at the artwork.
review contents
Getting There
Estimated Visiting Time
related reviews
More reviews in Long Island City, NY
Been here? Want to write your own review of this attraction?