Your Reviews About the World
MyWorldReviews.com
Let the world know what you think
2nd Ave Deli
New York, New York, United States
162 East 33rd
New York, New York, United States
10016
(212) 689-9000
www.2ndavedeli.com
View Map
Overall Experience:
7 / 10
Date Visited:
Saturday, May 14, 2011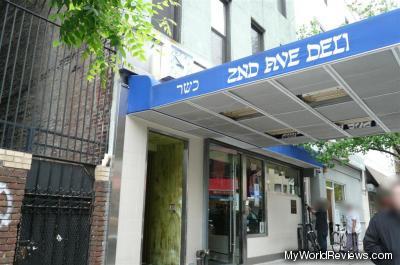 2nd Ave Deli
2nd Ave Deli, now located on 33rd St, is one of the famous Jewish Deli's in NYC. They are famous for the deli meat sandwiches with large heaps of meat.
Compared to some of the other deli's I've been to in NYC, the 2nd Ave Deli had a relaxed casual atmosphere. We didn't feel rushed, or overly crowded.
Dress
Casual - shorts and a t-shirt are fine.
Cost
Most entrees are $10-$15.
Service
The hosts were very friendly and accommodating. We were a large group and they did what they could to seat us as soon as possible. They made jokes to entertain us while we waited, and even came around with chopped liver sandwich bites.
Reservations
They do not accept reservations, but they can be quite busy at lunch time. We waited about 45 minutes to seat a large group.
Items Ordered
Cole Slaw and Potato Salad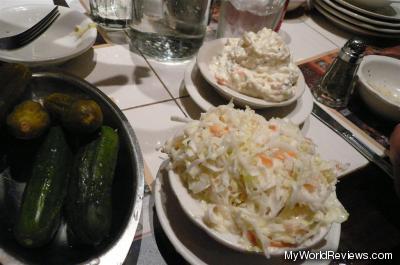 Cole Slaw and Potato Salad
Also in this picture is the free bowl of pickles that came to every table. There was also a free bowl of sauerkraut (not pictured). Had we known, we might not have also gotten the cole slaw, but it was a good cole slaw. It was just the right mix of sweet and salty. The potato salad was also one of the better ones I've had. I don't like mayonnaise, and this one tasted like something else, although I'm not sure what.
Fried Pierogen
Fried Pierogen
Pierogen, boiled or fried, served with applesauce and fried onions, choice of potato or spinach
We ordered the fried potato pierogen. They were pretty good, although I thought they were a bit too crispy. I find the perfect texture for pierogies is partially boiled and partially fried. The fried onions were deliciously caramelized.
Hot Pastrami Sandwich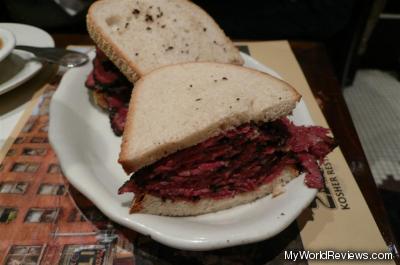 Pastrami Sandwich
2nd Ave Deli is known for having the best Pastrami in the city, and this sandwich lived up to its reputation. It had a great flavor and the meat just melted in your mouth. The sandwich was really large, but could easily be shared between two people. The sandwich was just bread and meat, all other condiments (mustard and pickles) were available on the side.
review contents
Dress
Cost
Service
Reservations
Items Ordered
Cole Slaw and Potato Salad
Fried Pierogen
Hot Pastrami Sandwich
related reviews
More reviews in New York, NY
Been here? Want to write your own review of this restaurant?